Even the healthiest relationships experience problems from time to time. However, many relationship problems can be easily solved simply by becoming more aware of your individual thought processes and patterns.
Once we have more understanding of our own feelings and emotional triggers, we can stop placing responsibility on our partner to make us feel better and start to improve our own well-being, plus the well-being of the relationship too.
Insecurity
Many relationship problems arise because we believe untrue or unlikely things about our partner: that they've stopped finding us attractive, that they dislike a certain aspect of our character, or some people even become convinced that their partner is cheating on them when in reality they would never even consider doing so.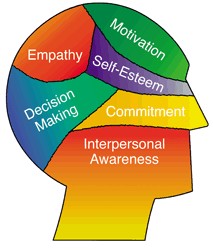 Rather than taking responsibility for our own issues (many of which have developed through the course of our lifetime) we take those insecure thoughts and make them real in our mind. Instead of realising that the fear of our partner's infidelity comes from a negative past experience, or a negative belief we have about our own self-worth, we blame our partner for not being attentive enough, for acting suspiciously, or for not doing enough to make us feel secure.
These types of insecure thoughts often happen in repetitious patterns. For example: a woman notices her partner briefly look in the direction of another woman. She then starts to think that he finds the other woman more attractive than her, and starts to doubt his love for her. By recognising this pattern, and taking responsibility for the fact that it is happening within our own mind, we can avoid getting into the same cycle of arguments and resentment again and again.
Arguments
Arguments are often caused when neither partner feels heard or listened to. In a bid to become understood, the voices raise in volume, and the desire to get our point across leads to ever more desperate and angry attempts.
However, by becoming more aware of what we are trying to say, we can calm down a little and start to articulate our feelings better. When we remember that our partner is not some ogre out to get us, but that they are simply wanting to be understood too, we can engage our listening skills more effectively.
Of course, we're only human and we're bound to argue occasionally, but keeping mindful of the loving bond between you both, and that you are both struggling for the same thing, you can shorten the amount of time you spend arguing, and hopefully lessen the intensity too.
Lack of Communication
Sometimes we expect too much from each other when it comes to understanding each other's feelings. One partner might think it must be obvious to the other that they are angry or sad about something, and yet they haven't said a word about it. Thinking that your partner knows how you feel, and that they're simply ignoring you, can cause resentment and hurt feelings. Yet by recognising your feelings, and learning the importance of communicating them clearly, you can avoid many arguments and bitter feelings in your relationship!
All that being said, you may have already done that. There does come a time to call it quits. If you are there and are starting out fresh here is a kick in the butt to get you out meeting some new friends and dating again. You can't pass up a saving like this. Choose either a 100% free trial to Match.com for a massive savings with 20% off meaning it costs you less than 3 lattes a month to get a full 6 month membership to match. The kicker you get 6 more months free if you do not meet anyone!

HURRY! YOU CAN SAVE 20% Off Match.com 6 month membership cost  
Comments
comments