HornyMatches is an adult dating site dedicated to singles looking for casual flings. Here we are running down an exclusive HornyMatches review. Learn more about the site features, costs, members, and other interesting things about this horny dating site.
It isn't surprising anymore to know that a lot of people go online hoping to find 'the one.' Yeah, that includes everything serious, casual, no strings attached hookups, etc. There are plenty of dating sites out there to choose from based on your requirements.
However, taking advantage of these sites isn't that easy as you think it is. Since scamming seems to be the most common thing on these sites, you must choose your site wisely. Joining such a hookup dating site means potentially risking your privacy, money, and of course, entering the world of casual sex.
Horny Matches is an adult dating site designed to help users to find people seeking sexual encounters. Well, if you're looking for a good hookup platform, look elsewhere as HornyMatches isn't a scam-free dating site. Find more interesting things about it in our HornyMatches review below.
Beware of romance scams before trying out HornyMatches.com – Jason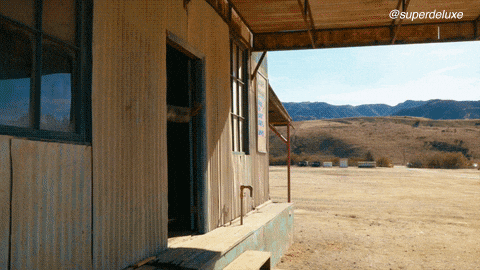 HornyMatches Introduction and Overview
As said earlier, HornyMatches is an online dating site that targets those who are looking for a casual (sexual) relationship with singles in their vicinity. It was launched in 2005 and is owned by DG International, who also are behind other popular dating websites and communities.
Is it a good platform to try for easy hookups? Absolutely not! Right from the registration process, you will get the impression that the site isn't playing nice and you're totally right! Also, another strong reason to stay away from this shady dating site is that it's deceiving the audience by promoting live sex cams.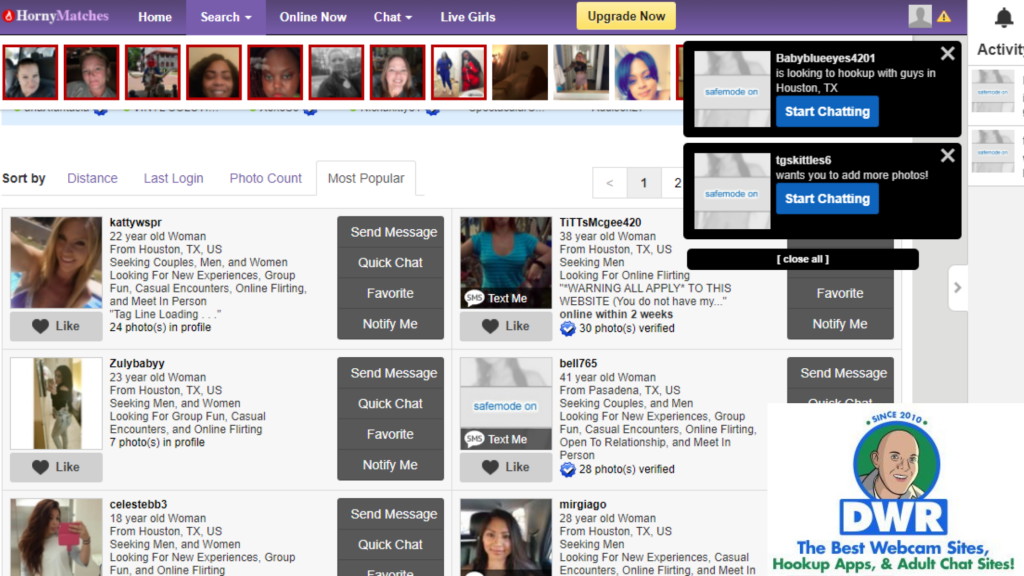 With tons of fake profiles and spammers scampering around the site, you would absolutely find no casual dates or whatsoever. HornyMatches currently states that they have over 20 million members. Based on monthly visitors we see going to this site from Alexa this number seems very inflated.
The monthly visitor count of over 700k seems suspect as we're unsure whether they're coming for casual dating or to watch shady sex cams. With these many setbacks, I still wonder how Hornymatches.com got nominated for the AVN award under the 'Best Dating Site' category.
Horny Matches Signup Process
It would be surprising if it ain't ring any bells for you after looking at the signup process of this horny dating site. Yeah, it isn't playing nice and you can tell that just by looking at the foul signup page. However, the registration is pretty simple and will be done in six simple steps.
Firstly, you must select your gender and the opposite gender you're interested in. As you can see, there will be horny contacts on your left to provoke users to get signed up. In the later stages, you will be asked to enter your age, location/zip code, email address, and password.
Unlike in other hookup sites, you need not validate your email address at Horny Matches and thus it welcomes fake users to lurk around. Also, other additional information like adding pictures, search preferences, lifestyle, and bio aren't required to create an account here.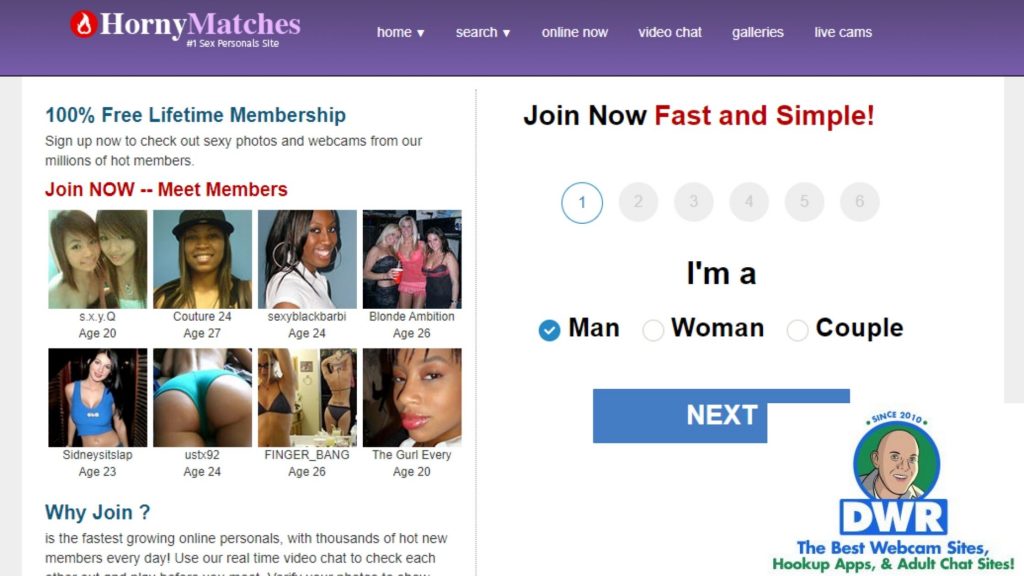 HornyMatches Overall Site Features
One of the many reasons that keep people off from this horny site is its cluttered website design. As soon as you logged into the site, you will be assaulted with suggestive images, unwanted ads, and random spammy messages.
Talking about the members of the site, sadly the majority of them are fake. Whereas, some of them are a bit subtle but, you need a paid subscription to reach out to them for horny conversations. The profile pics on the other hand aren't that attractive to be legitimate.
Let's see the overall features of Hornymatches.com in detail here:
Home – The ideal place for all horny activities. The home page features the local horny contacts that are looking for casual flings. You can find live cams, messages, on the right pane of the homepage along with interrupting ads.
Search – It allows users to filter out the profiles based on various search parameters. You can find people online now, most popular users, SMS users, new faces, profile viewers, live streaming members.
Online Now – As it says you can find people who are online in real-time. You can also sort profiles based on the most popular, last login, photo count, and distance.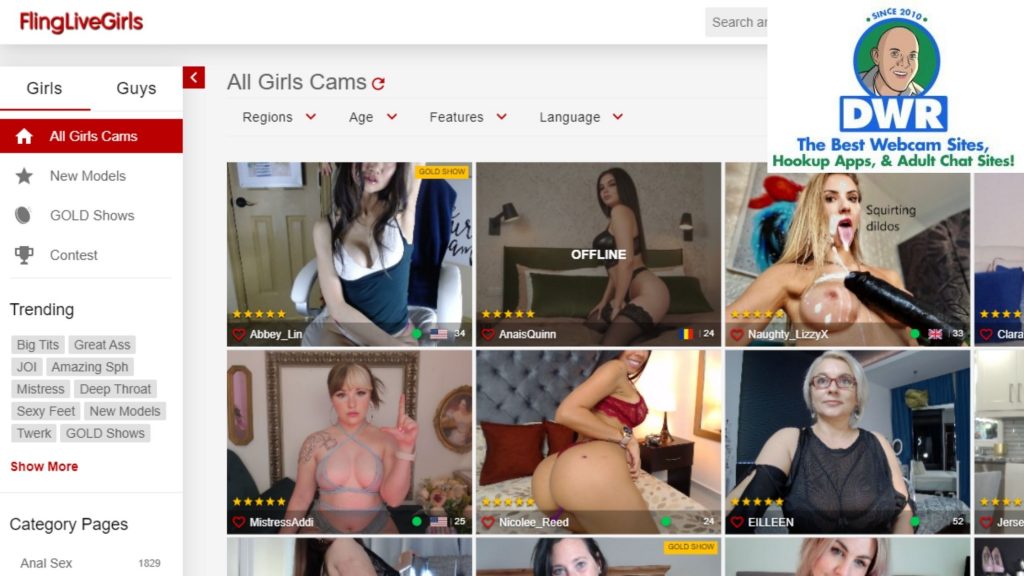 Chat – This allows users to have conversations with horny contacts and even encourages them to have a group chat. However, it is a totally premium feature and requires a paid membership to access. You can always receive and read messages, but can't reply unless you're a paid member at HornyMatches.
LiveGirls – The utter promotional stunt by Hornymatches! This will redirect you to the Flinglivegirls site which is a total sham of legitimate Streamate.com. All the models featured here are trained and well-recognized models on the Streamate (review at the link).
Horny Matches Costs for Premium Membership
As there are no real free features other than stalking the horny contacts, you must opt-in for a paid membership. The HornyMatches is offering 2-day and 7-day trial packs to try the gold membership, which is a good sign. Here are the overall pricing plans for Hornymatches paid membership:
2-day trial GOLD – $0.95
7-day trial GOLD – $9.95
1-month GOLD – $34.95
6 months GOLD – $11.65/month
12 months GOLD – $6.67/month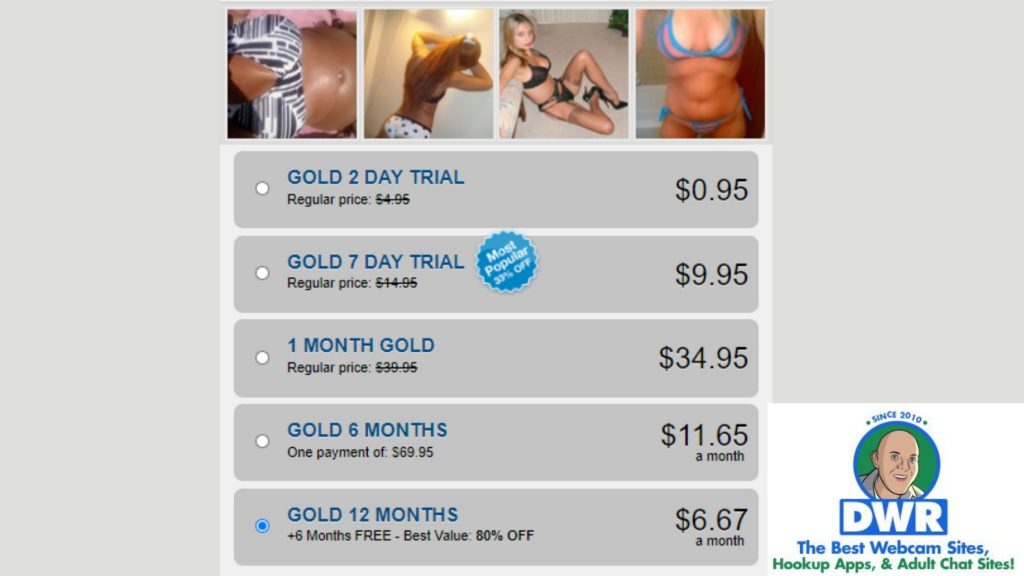 By taking many user reviews into consideration, we are instructing you not to pay for these memberships as you can't revoke its renewal. That said, customer support will not be handy to help you with this. Instead, try spending on worthy sites like Stripchat.com.
Sites Like HornyMatches.com
The adult dating sites realm can be fraught with sites where the male to female ratio is at times very bad. HornyMatches is no excuse as you can see thousands of male profiles turned to be female.
Dating and hookups are all about the numbers game and HornyMatches is truly fell behind many best hookup sites in providing easy hookups or horny dates. Lack of many options has also got the better of Horny Matches. Hence, we recommend you try this site as it is most efficient in providing you easy hookups.

That said, you can find thousands of horny singles around you who are open to all sorts of relationships. All it takes is a click. The best part is it works totally free, unlike Hornymatches.com. You're gonna do way better here than on Horny Matches.
Also, make sure to share your own HornyMatches reviews if you have been a member of this site in the past by using the comments section below.
Comments
comments