Grindr dating app reviews

,
Grindr.com reviews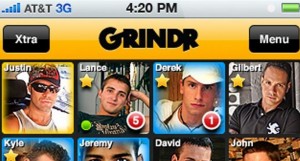 Introduction and history of site Grindr is a social discovery app that makes it possible for gay, or bisexual men to find each other when they are in close proximity. The app was launched on the 25th of March 2009 by Nearby Buddy Finder, LLC. Later in 2010, the same company would launch Blendr, which is specifically designed for non-sexual encounters.
Amount of members Currently Grindr has over 5 million users worldwide.
Features Grindr is available for both iOS as Android, as well as Blackberry OS. The app can specify different guys that are physically near you and basically gives you the option to get in touch with these guys. Grindr Extra has more options on top of the basic ones such as messaging and checking out profiles. These opitons include the lack of banner ads, push notifications, seeing up to 300 guys, accessing all filters, joining more Grindr tribes, getting unlimited favorites and blocks. Swiping through profiles and viewing who are online now also are a possibility through Grindr Extra.
Cost for members Grindr is available for free in all app stores. It nevertheless has a paid subscription based version available that shows no advertisements. This app costs $0.99, and the subscription comes in different forms:
Grindr Xtra costs: USD $11.99/month $20.99/quarter- 42% savings $35.99/half-year- 50% savings $59.99/year – 58% savings
Corporate Info / Contact info:
Grindr is part of Grindr LLC. They can only be contacted through different forms on their website. The company is based in Hollywood, California and currently has around 50 employees.
Concluding comments as far as our impression of this site: Grindr is the most popular option you have when you're opting to find a guy near you. If you're out for an adventure, be sure to check out Grindr to possibly find what you're looking for – same sex wise. Remember to share you own experiences below with Grindr dating app reviews. It's only as good as YOU make it! J~
Also make sure to check out our reviews of the top gay dating sites
Find Hot Gay Men Near You Free! on Match.com
Comments
comments