VictoriaMilan sent this over our way and I wanted to share the interesting findings. According to VictoriaMilan.com women prefer having an affair to receiving a gift for International Women's Day!
Top 10 Countries with the Most Cheating Women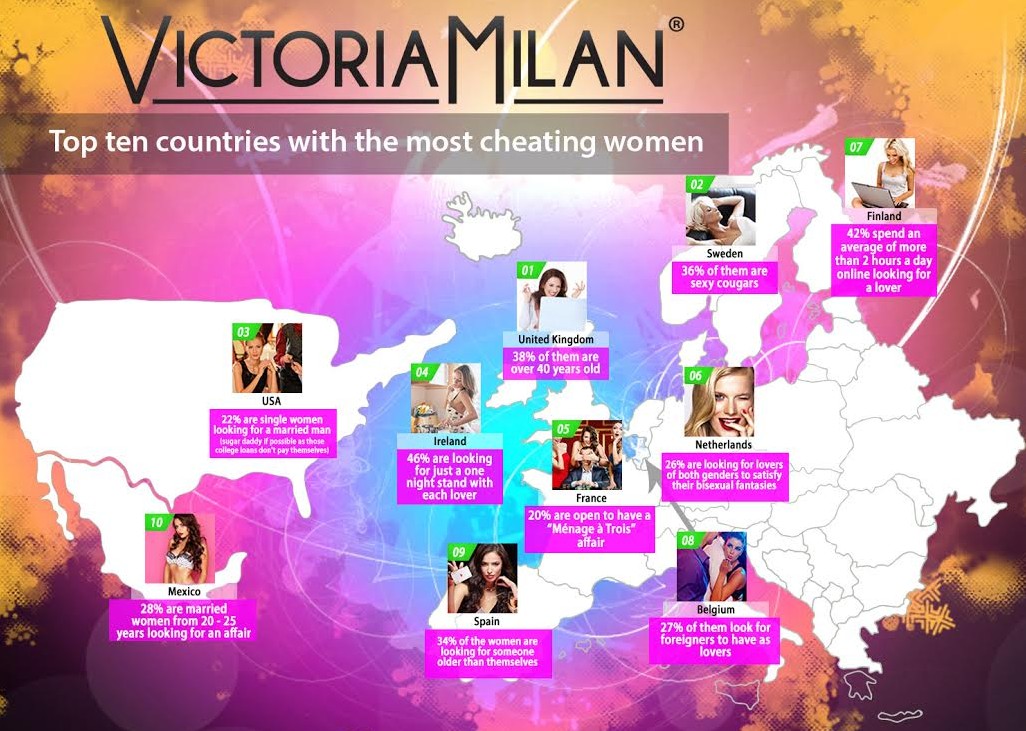 –        37 % more than the average amount of sign ups were registered during the International Women's Day last year.
–        English women are the most unfaithful worldwide, followed by the Swedish women and American.
6th March 2014 – Victoria Milan, leading extramarital dating site for married and attached people, is bracing for its own International Women's Day celebration. The site expects a huge wave of new female members—and why not? 2013's International Women Day and the weeks that followed produced a huge spike in new members for the infidelity website. In fact, there was a rise of more than 37% in female sign ups in the wake of the celebration in 2013.
Why the rush towards the international infidelity site Victoria Milan? A whopping 68% of the more than 4,000 female members surveyed report that they are unfaithful because of a lack of good sex in their relationship. The results also show that 32% are looking for one night stand affairs, 46% for something short term and 22% for a parallel relation to their steady relationship.
Sigurd Vedal, CEO and founder of Victoria Milan, jokingly comments, "We just want to apologise in advance for the barrage of women who will be looking for affairs around International Women's Day. In their defence, however, it seems that they are taking steps to honestly asses their own happiness and think more deeply about their current life situations. When they see what is missing in their relationships, apparently they choose to take a step forward and start looking for the passion that they have been missing—and who can blame them?"
What is the average profile of a cheating women?
Age: 20- 35; Education: University; Occupation: Administration, management and Human resources; Personality: Flirtatious, Sense of humour, honest; Interests: Travelling, sex and erotic's, music; Turns on by: Sense of humour, self-confidence and intelligence.
Top ten countries with the most cheating women
1. United Kingdom
38% of them are over 40 years old
2. Sweden
36% of them are sexy cougars
3. United States
22% are single women looking for a married man (sugar daddy if possible as those college loans don't pay themselves off)
4. Ireland
46% are looking for just a one night stand with each lover
5. France
20% are open to have a "Ménage à Trois" affair
6. Netherlands
26% are looking for lovers of both genders to satisfy their bisexual fantasies
7. Finland
42% spend an average of more than 2 hours a day online looking for a lover
8. Belgium
27% of them look for foreigners to have as lovers
9. Spain
34% of the women are looking for someone older than themselves
10. Mexico
28% are married women from 20 – 25 years looking for an affair
Victoria Milan is one of the world's leading discreet social networks for men and women seeking a secret affair. The service was launched by happily married media executive Mr. Sigurd Vedal in 2010, and has today become one of the world's fastest-growing and leading social networks for secret extramarital affairs, surpassing 4 million members worldwide in more than 33 countries.
You can read the VictoriaMilan.com reviews here as well or give the site a try by clicking here. We cannot of course verify the statistics here but we do have some interesting online dating stats as well here.
Comments
comments