Today I am sharing my updated badoo review for 2021 including the features, costs, the other badoo app prices. I also share the total members count so you can see if it's legit or any good at all. My real experience using this social dating app was a bit of a disappointment. I will share more about that in the summary, but first, let's take it from the badoo login process and eventually work our way to how to delete badoo account data.
Badoo Reviews Are Mixed, Here is Why (The short version)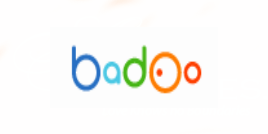 Badoo.com is one of the largest dating sites and if it is to take its developer's words for granted it is "the largest Social Network for Meeting New People locally". It was launched in 2006 and it became a worldwide success. Yes, that is now more than 15 years ago. With age things are supposed to get better in time. For Badoo that does not seem to have happened.
First of all, I get the whole bragging thing that dating apps tend to do with their membership base but total active monthly members are far more important than the total emails ever collected.
It seems apparent that this was a once-popular place to meet singles online whose day has come and gone. We tested our zip code in Portland Oregon and found few people active. We then tried the whole state from different locations. By that time it was clear, this really is not a popular dating app anymore; at least not in the United States.
I mean I hate to write a bad badoo review but I do want to warn you as far as what to expect here if you make it past the badoo sign in.
Introduction, History Plus My Badoo.com Experience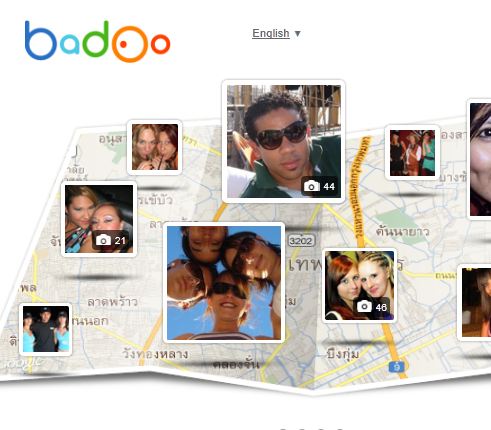 Badoo.com's primary service is to connect its users with other members that are in the same or at least in the nearby location, thus promoting and enabling real-life relationships.
Badoo is also available for OS, Android, Windows Phone, Facebook, Desktop application.
Features and amount of members at Badoo.com:
Badoo.com currently connects over 210 million users, from 190 countries, speaking 46 languages, according to the information released by its developers.
Badoo app operates in a freemium model, offering basic features to its free users, with paid extras.
Here is what you can do with a free membership:
Create your profile and add photos
Search and find new people in your area
Contact and chat with a maximum of 10 members per day, as long as you have at least one profile photo
Extra features offered by an upgraded membership:
Super Powers: lets you see who listed you as Favorite and increases your profile status in searches results, thus getting more attention and meeting more new people
Spotlight: your photo gets to be seen instantly by being posted at the top of the screen
Credits: are basically obtained by being in Spotlight, allowing you to rate more photos in the Encounters game, increase the number of times your photo appears in the Encounters game, and increases the number of people who can vote you in the Encounters game, plus increasing your daily contact limit.
In order to verify my concerns about the lack of real user engagement, I went to see if they have a blog with comments enabled. The answer was no, thus no social engagement verification could be had that route. Just some cliche boring blog posts were all that was to be found.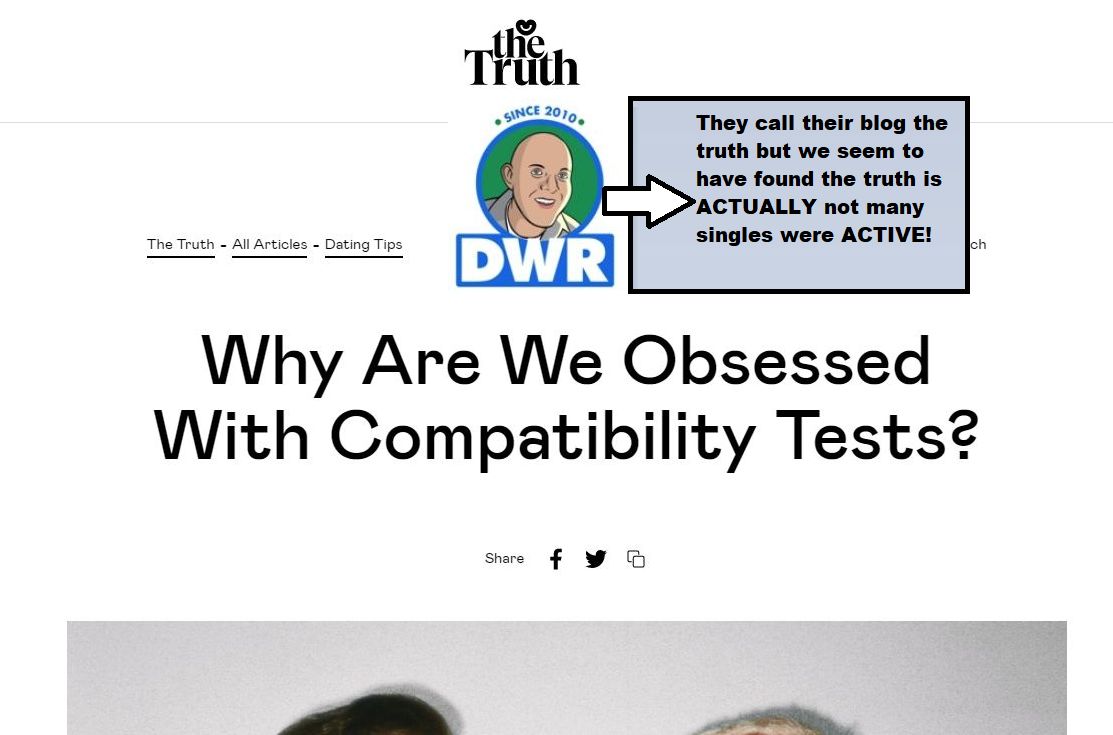 However, when I peered in on the badoo twitter account I felt my concerns were validated.
Dating sites with hundreds of millions of ACTIVE members don't get 6 likes on Twitter posts! That's just not right. See what I mean in this image.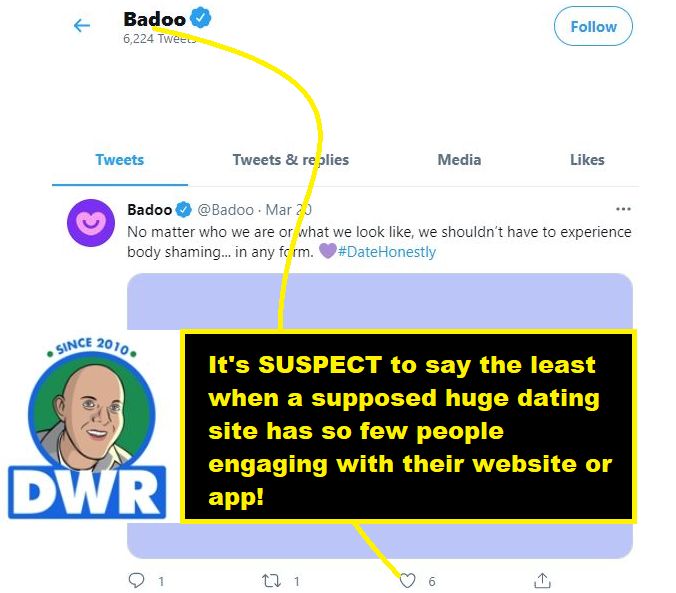 Badoo.com costs and membership plans:
Upgrade billed with your mobile phone: €2.00/week
Packages billed with PayPal or credit card:
1 month: €8.00
3 months: €6.67/month – in 1 Easy Payment of  €20.00, saving 17%
6 months: €5.00/month – in 1 Easy Payment of  €30.00, saving 38%
12 months: €3.75/month – in 1 Easy Payment of €45.00, saving 53%
Those are the current badoo prices as of Jan 2022
Badoo Contact Info and Sites Like Badoo:
Badoo.com can be contacted using the form in the Help section of the website, or at its registered office at:
Media Village
131-151 Great Titchfield Street
London, W1W 5BB
Okay, so I am not sure how much similar to Badoo it is for you but this site I have had lots of luck with as far as booty calls locally. There really are not that many legit dating sites like badoo, as it seems like so many people are opting for adult video chat sites nowadays.
Dating as a whole really has dropped in popularity a lot as more people seek to meet people in real life and use online matchmaking more for fantasy-based connections.
Our Badoo Review Summary and Conclusion
Badoo.com is an impressively popular dating site, also available as an application. It is a very interactive site and it offers a great number of features and options for its users. There is the Encounters game, where users accept or reject their matches and a mutual "yes" will send a notification to the two users.
There are the Rise-Up and the Gift features, which are available only for computers, but also bring even more color to the overall image of the site. Badoo.com focuses on helping people from the same location meet and offers a lot of options to make your profile as visible as possible for the other members, which is probably what made this dating site so popular; not to mention its relatively low fees.
Low fees or not, to be an honest badoo review I have to say it lacks user value overall.
The bottom line though is Badoo is less about dating than wasting time over faux random chat, If you are a regular reader of DWR, then you already know what an epic waste of time I believe those sites to be. My experiences at Badoo dating was that women were very reluctant to even plan real dates and instead seemed more interested in interviewing people. This is sadly the case with too many singles and social networking sites built around online dating.
Most guys will circle back to any of the best webcam sites after a frustrating experience here. Sure, perhaps they have had over 500 million singles register over 20 but I'd like to know if there are any real local singles ready to date at all on this website. My hunch is that answer is more often than not, no!

Have you been a member of the Badoo dating site? If so share your own Badoo reviews in the comments section below.
Comments
comments