Amigos.com reviews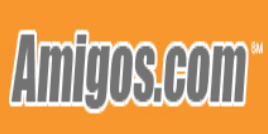 Introduction and history of Amigos.com:
Amigos.com is a dating site that aims especially at Latino singles. It is owned by FriendFinder Networks Inc., which was founded in 1996. From the first page, Amigos.com looks like a very friendly and welcoming dating network. It invites people to join the community either their are looking for friendship or real love. The site is also available in a mobile version and as an application for iPhone; it can be used in English, Spanish or Portuguese.
Features and amount of members at Amigos.com:
According to the information posted on its homepage, Amigos.com currently counts over 1.2 million members, with more than 1500 new photos added weekly.
Amigos.com offers a free membership that gives users access to certain basic features, but also the possibility to upgrade to a paid membership.
Here is what you can do with a Standard Membership:
Create a profile and add pictures
Perform standard searches and browse through other profiles
Upload a greeting video
Use chat and IM to communicate with other users
View other members profiles, but in a limited way, according to the popularity of your profile
Send emails to other members, but in a limited way, according to the popularity of your profile
View other members greeting videos, but in a limuted way, according to the popularity of your profile
Add up to 200 favorites members on your Hotlist
Receive up to 10 matches
Use the interactive Magazine of the website, by making your own posts or commenting on other users posts
Benefit from technical support by email within 2 days
See emails for 30 days
With a Silver Membership you gain access to the following features:
View other profiles unlimited
View up to photos of other members
View videos of other members unlimited
Perform advanced searches
Add up to 500 membersnon yiur Hotlist
Send emails unlimited
Have fast reviews on profiles and photos
Search members by username
Benefit from up to 20 matches
Benefit from technical support by email within 24 hours
Benefit from technical support by phone
If you upgrade to a Gold Membershio you benefit from the following options:
All the features allowes for Silver Membership
Add up to 1000 people on your Hotlist
Benefit from 30+ matches
See all photos of other members
Get more contact information about other members
Perform super-searches using the priority form
Appear on the top of the list in search results
Benefit from technical support by email within12 hours
Amigos.com membership plans:
Silver Membership:
1 month: $9.99
3 months: $8.99/month (a total of $26.97)
Gold Membership:
1 month: $19.99
4 months: $8.99/month (a total of $35.96)
The payment can be done online, via PayPal or by sending a check or a money order to the postal mail address of the company.
Amigos.com contact information:
Amigos.com can be contacted using the form in the Contact section, via telephone, fax or by postal mail.
Phone number: 408-702-1033
Call toll-free from the United States or Canada: 888-575-838
Fax: 408-745-5680
Postal address:
FriendFinder Inc.
Attn: Amigos.com team
220 Humboldt Ct.
Sunnyvale, Ca 94089, USA
Our conclusion about Amigos.com:
Amigos.com is an online community who's main goal is to get together single Latinos and Latinas. You can, however, join the service despite your ethnicity, but you will come across a true latino atmosphere. Amigos.com offers many fun features to put its members in contact and it is very easy to use and enjoy. Not to mention that the mebership plans are quite affordable and very well-thought. The service encourages people to join and create an even larger community, whether they are interested in plain friendship or they want a more serious, romantic relationship. So, if you are looking for a bit of latino spirit, Amigos.com would be a very good choice.
You can join here.
Comments
comments