Comparison of dating sites to meet older women and younger men
Welcome to Jason Lee's Cougar dating site reviews. Cougar dating sites also go by the terms age gap dating and are also sometimes referred to older women dating sites. Now that we've covered the lingo let me share what we have done.
Older women dating site research and site testing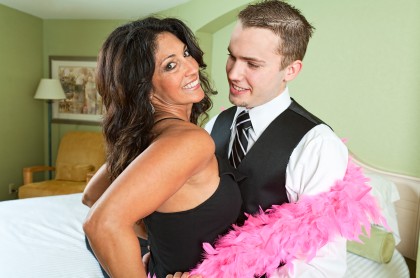 After joining and using each of the best older women dating site for no less than a week each, we then set out to compile our research into the following tables. Over the past two years we have written detailed reviews for all the most widely used cougar dating sites. These reviews cover the history of each site, the total costs, the total amount of members, what membership plans give you what features, and much more.
How our cougar dating site reviews are different.
What sets our method of collecting and sharing information on dating sites apart is simply the way we approach things and how much value we place on making sure the information is accurate. Unlike thousands of shoddy affiliate marketers who will say anything to make a dollar, Jason Lee's DatingWebsiteReview.net is a REAL full time business with REAL people looking into the real facts and figures on the top dating sites. We talk with the actual site operators, we cross check information, we attend industry events, and we write about new developments with each of these sites. We try to always remain more neutral placing the emphasis instead on the actual reviews that YOU, real past members leave. Each year we also award the online dating awards consumer choice pick which we created. This is called the Golden Heart Award. Recipient websites will display the trophy on the reviews in the chart below and often times you will also see this award displayed on their dating sites as well.
Meet older women with online dating; the game has changed.
Whether it's apps or dating sites the method that people meet has evolved and this equally applies to all regardless of what their seeking in a partner. If you are seeking someone younger or older than here are the top dating site to meet either younger men or older women. (Note: we don't set the rules or dictate the norms, but if it is younger women you seek or older men I suggest you read the sugardaddy dating site reviews.) Those sites also organized into a easy to use table with links to the reviews for each site will be more appropriate. That being said here at the best cougar dating site for 2014!
| Cougar Dating Site Reviews | Total Member / & Preview of Comments | Membership Prices / Visit Site |
| --- | --- | --- |
| AdultFriendFinder reviews | A surprising story, AFF or adult friend finder used to be on the fray but now it is... | $19.00 - $ 25.00 depending on location in which you sign-up. |
| OlderWomenDating.com reviews | OlderWomenDating.com reviews are consistently good which has seen this site move up the ranks year over year. | $22.00 Mo. |
| Match.com reviews | 26,505,000 - Match.com has the sheer numbers to beat out all other sites in nearly every niche. It's hard to dispute this as a fact. More on that in the match.com reviews. | $24.95 Mo. |
| CougarLife reviews | CougarLife is operated by Avid Media who operates AshleyMadison. In the UK... | $24.00 Mo. |
| CougarFriendsDate.com reviews | A relative newcomer, CougarFriendsDate.com is growing fast because of the unique business model. | $19.95 Mo. |
| CougarPersonalsAds reviews | CougarPersonalAds is still a fringe site more focused on adult dating with fewer members. | $19.00 Mo. |
Did you know Match.com has the single largest membership database? Save big with this coupon code: 20% Off Discount
We update our dating site reviews at least every 90 days for all sites along with updating daily for new promo codes, discount codes, special offers, and Free Trials.  Make sure to share and bookmark the honest dating site review site; www.DatingWebsiteReview.net!
Comments
comments