Evidently there is no low that dating sites won't stoop to, to get some free traffic. This week I was floored to see that WeLoveDates.com a growing white label dating site partner with WhiteLabelDating.com is actually using YouTube.com to do what they are calling 'Reviews'. However, as you can imagine they are only offering reviews of the largest dating site in the world (Match.com) and the largest free dating site in the world (PlentyOfFish.com).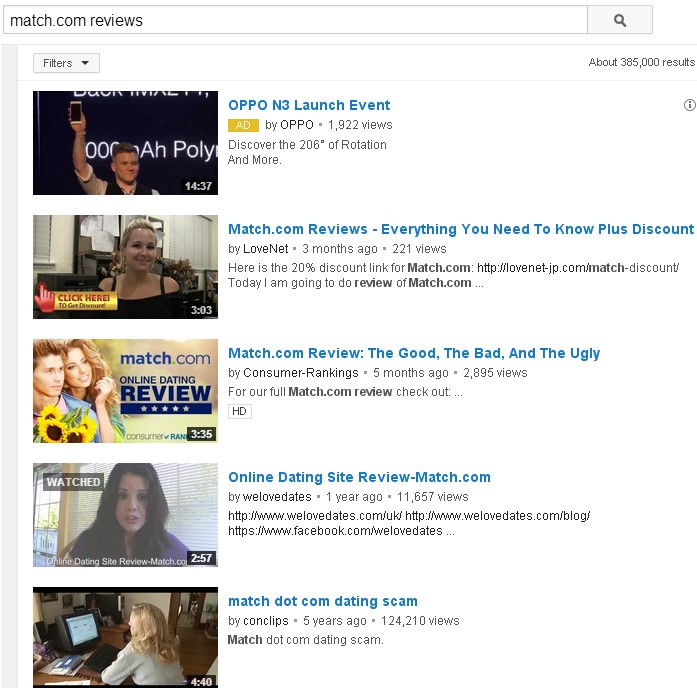 The kicker you ask? These, 'reviews' videos are artistically crafted with clichés to walk the fine line between unfair business practices and fair use. Frankly the videos intentionally infer that their own dating site is superior and they even stuff links to their own, welovedates.com site directly under and in the claimed 'reviews' videos.
This is of course nothing more than an effort promote their own dating site brands and use YouTube to draw traffic away from those searching for their competitors brands. 
So in an effort to share a bit more background on WeLoveDates.com let's first talk about what, 'generally speaking' white label dating sites are; since WeLoveDates.com does not actually have their own, owned singles database.
White label dating sites typically refer to any site that is not unique except to the extent of badges or logos; branding which boils down the slogans and colors of the site and the social media properties that surround the site.
Specifically, the welovedates.com database is shared by a few thousand other brands. This arrangement gives dating site, 'brands' or individuals or company brand owners the ability to outsource billing, database management, and all the core issues of operating a dating site to a 3rd party.
The only concern we have as an industry critic of sorts, is that the disclosures to the public should be made very clear. The third-party in this case is a company called WhiteLabelDating.com. This company has trademarked the term, 'White Label Dating' as it applies to business use and besides operating their own dating sites (complete list at 100+ sites at JustSingles.com) they are a white label dating partner for others.
Anyway, that is an explanation of the business model that is used by white label dating sites in the online dating industry and that is what WeLoveDates.com is. It can be a great solution, but of course that's a discussion for another day.
However, to illustrate my concerns and broader point I wanted to first off make it abundantly clear that WeLoveDates.com is a white label powered dating site. That means when you sign-up at that site, if you take the time to read the sites t.o.s. (terms of service) most everything about the whole site is actually handled by WhiteLabelDating.com. WhiteLabelDating is thus the real company that has the access to your personal information and all emails you send and receive. WeLoveDates.com brand owners are merely that, brand owners and marketers. WhiteLabelDating.com is also the entity that handles all the technical side issues surrounding daily operations of the WeLoveDates.com site. This begs the question, does WhiteLabelDating have an internal code of ethics for its partners?
Dating sites hijacking each others brands is
bad business

.

Since welovedate.com is suggesting in videos on YouTube that they are offering consumer help reviews this article, if nothing more should help illuminate the differences for you between WeLoveDates.com and the sites they chose to review for their own benefit. It also shed some light on what you're watching if you stumble onto any more of these, WeLoveDates.com reviews videos.

So as discussed above, again WeLoveDates.com does not run their own dating site, they operate marketing functions for the brand under which most everything besides branding is owned by WhiteLabelDating.com. In exchange they get a split of commission (commission being member payments).

In case it were not abundantly obvious why I am sharing this, let me be even more clear: 

A.  WeLoveDates.com is using inferences about the inferiority of other companies brand names to promote their own brand.

B. WeLoveDates is using the term, 'reviews' which has a natural 3rd part supposition tied to it. People have some assumption that those reviews will be impartial hence the terminology is hijacked.

C. WeLoveDates.com is stuffing they're your own brands under video search terms they clearly know will be searched just by those looking for impartial information about their two primary competitors.

Okay folks. Let's use our heads….

Dating sites should not be in the business of doing reviews on their competitors unless they give consumers a direct factual comparison.

Moreover, it is a disservice to the online dating industry when you hijack other brands under the guise of reviews just for the mere chance of getting a little more traffic.

So let's talk specifics. The video is posted below for you to watch yourself. If you skip ahead in the video you will see that this white label dating site starts tearing into the worlds largest free dating site at 1:22. Likewise, about half the way into the other supposed 'review' video much the same occurs.

The following statements are misleading or suggest inferiority:

(I've also added the obvious inferences being made.)
"Anybody can sign up, and

anybody does sign-up

" 
(Inference: low quality people use this site and if you are low quality then POF.com is for you)
"When you are on POF.com

you will see a lot of profiles that are not completely filled out

"
(Inference: WeLoveDates has profiles that are more complete)
"There is

not a lot of effort put into it

"
(Inference: POF users do not put out as much effort as WeLoveDates)
"That is because

with other online dating sites you progress through the sign-up period

" "They ask you certain things and they won't let you continue until you do"
(The claim we extrapolated and that most would when they watch this video is that there is some sort of requirement(s) to be met at welovedates.com; requirements that are not present on POF.com. This appears to be a clear misrepresentation of PlentyOfFish.com as the two sites are distinct and one is not as best we can tell more rigid with respect to membership standards.)
"With POF (PlentyOfFish.com) there is nothing that you need to fill out, you only need to put in as much effort as you like"
(Inference: WeLoveDates.com here suggest that screening of members on WeLoveDates.com is somehow more rigid.) If this is true, how so? Or it just a wild guess or speculation? If this is a review then we shouldn't we know what you are talking about?
I have emailed both WeLoveDates.com and WhiteLabelDating.com asking for their comments.  Perhaps they can explain what, "Progressing through the sign-up period" refers to as well as explain the other differences. When we tested the WhiteLabelDating platform there was not any sort of progressive sign-up process or sign-up period where you were not a full member yet, which is what the video reviews seem to say. 
As a matter of fact plentyoffish.com or POF, as it's known to 10's of million of users has a nearly identical sign-up process, the only stark difference being that since POF.com is free, you do not have to input a credit card as would if you are joining as a full member of WeLoveDates.com.
Clearly free dating sites are not good for WeLoveDates.com. However, going onto YouTube and posting video of yourself claiming these are, 'reviews' then trying to capture traffic back to your own dating brand is a NO-NO.
So here is the video:
http://www.youtube.com/watch?v=TslTF-PzpHU
As a matter of full disclosure we reached out to the social media manager for WeLoveDates.com earlier this year as we often do with many dating brands and industry professionals. As a matter of fact we shared an interview after seeing a wonderful use of social media platforms for dating site marketing from this brand earlier this year. (G+ in particular) Creativity is to be applauded but I wish I could say the same in this instance. In my opinion this cross the line and damages the online dating industry.
Anyway, that interview is here. We also wrote a review about this brand and reached out to get the facts about the WeLoveDates.com brand direct from that company earlier this year, as we try to do with all brands that are reaching a wide audience. That review is here.
However, the problem is that if all online dating sites went to YouTube and did reviews of their competitors sites and then stuffed links back to their own brands consumers could not tell the difference between a 'review' that was done by someone as purely promotion and an actual review.
I will update this thread should we get any further clarification from either WeLoveDates.com or WhiteLabelDating.com, the actual platform that operates under the WeLoveDates.com branding as well as thousands of other brands.
Oh. I almost forgot. According to the 'reviews' from WeLoveDates.com pertaining to Match.com the cons are as follows:
"Match.com can seem very overwhelming and you can seem like a very small fish in a huge pond. And another con is that you might not find as much quality or thoughtfulness in the profiles….because, well you know there is just so many." The WeLoveDates staff rounds off their 'review' by also saying that, "Match.com does not have 'super' published price lists."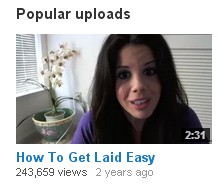 Lastly, I feel compelled to correct two important facts.
1. POF is the largest free dating site in the world because it's a good dating site that presents substantial consumer value for those who want free dating. Let's be honest. It's not always fair to say less effort is put out by the members of this site just because it's free.
Albeit I made the same, less than intellectual assumptions a few years back when I first launched DatingWebsiteReview.  It's probably more fair to assume that thousands more marriages have evolved from PlentyOfFish.com than from WeLoveDates.com and POF.com is free.
2. As far as the claimed 'cons' about Match.com I'd refer our detailed and informative match.com reviews.
MAKE IT A GREAT DATE! 
______________________________________________________________
UPDATE: 11/3/2014 I received the follow email from WeLoveDates.com
"The WLD blog was originally independent of the online dating site, but obviously we are now one unit, and I completely understand your comments.  According to what I've found on our YouTube channel, we have two videos that would be questionable, and they have been removed from public view as well as their corresponding blog posts".

 

Thanks again,

(WeLoveDates Staff)
Comments
comments