WealthyMen.com reviews
Our WealthyMen.com reviews covers membership prices, total single millionaires, costs of memberships and membership plans as well as an editorial review. Learn more about this millionaire dating site and compare others.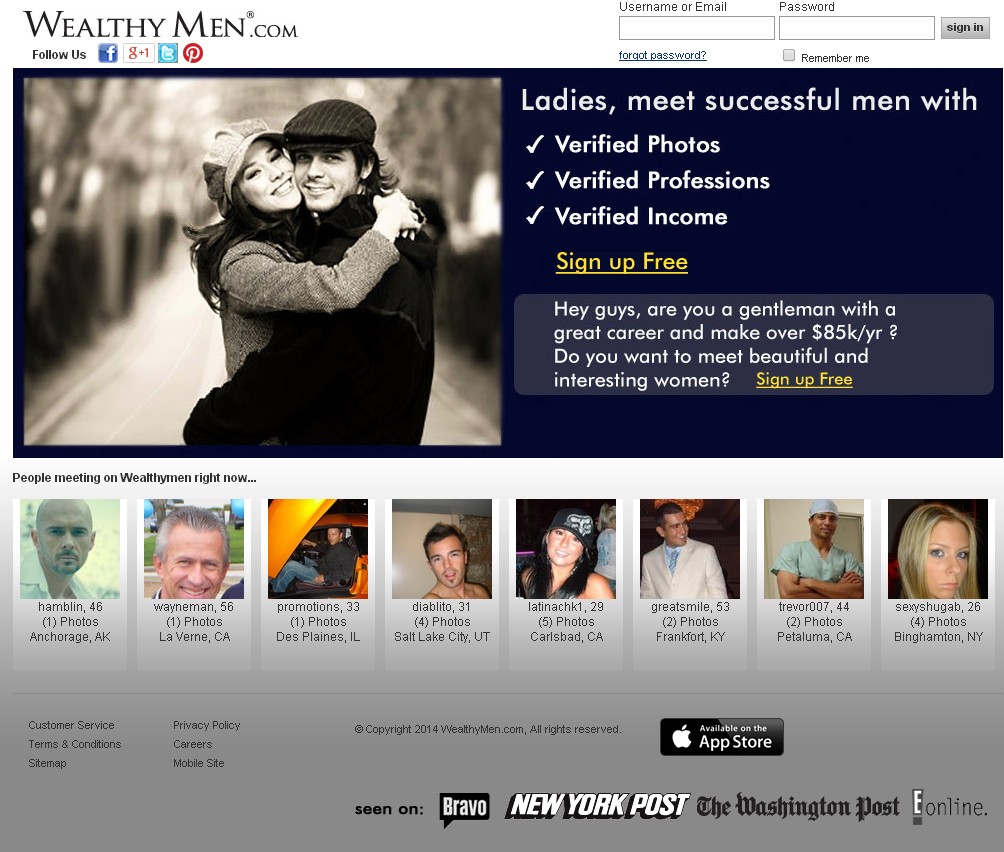 Introduction and history of WealthyMen.com
WealthyMen.com was released in 2002 as a dating website for women who want a rich man in their lives and for wealthy men who are looking for an attractive woman. The website is unique in the way that it verifies photos, professions and even income of its male users and the photos of its female members. In fact, only guys that earn over $85k per year are welcomed. WealthyMen is also available as a mobile app for iPhone.
Features and amount of members at WealthyMen
WealthyMen.com does not officially release its total amount of members, but there seem to be around 500,000 active users of the service.
WealthyMen is free to join and offers very basic features for its free members and some more general options if you choose a paid subscription.
Here is what you can do with a free membership:
Create your personal profile and add up to 6 pictures
Search members by basic criteria
Add members as Friends
Have limited view on other members profiles and photos galleries
See who is online
Upgrading to a Silver Membership, gives you access to the following:
View complete profiles of other members
View full photo galleries of other members
Receive and reply to messages
A Gold Membership allows you to use the extras:
Initiate conversation
Allow free members to reply to your messages
Be on top of the list in search results
WealthyMen.com membership plans:
Silver Membership:
1 month: $24.95
3 months: $49.95
Gold Membership:
7 days trial: $9.95
1 month: $34.95
3 months: $59.95
WealthyMen.com contact info:
WealthyMen.com can be contacted using the support Center contact for, by email or phone.
Email: webmaster@Wealthymen.com
Call Toll-Free: 866-671-6662
Our conclusion about WealthyMen.com:
WealthyMen.com is an online platform for women who want to date or even marry rich men and for men with established professions and incomes who are looking for good-looking and charming ladies. There even is a minimum wage for men in order to be welcomed. This fact probably explains why female users outnumber males, by about 7 to 2. WealthyMen.com has quit a fashionable design, but the tools and features are very simplistic, even plain. It basically offers a database of members and a communication tool, which is email. Yet, this makes it good for people who really know what they want. I should mention two thing. First is MAKE SURE TO READ OUR COMPLETE MILLIONAIRE DATING SITE REVIEWS before you join here. This is a fine site but there are better choices to meet real rich men and women. Specifically, read our millionairematch reviews.

For over 3 years we have offered the most up-to date Match Promo Codes and Free Trials. Here are the latest offers for August 2014
Comments
comments