What is The League?
The League is a dating and social networking app launched in the year 2015 out of its founder's frustrating dating experience. The League is designed to meet intelligent people and intelligently brands the idea of being picky and self-aware. The Leagues app is created to match power couples. Less known about the inside functionality of the app, because of the stringent verification they do for letting a user into the League App.
The League asks for Facebook and LinkedIn profile links to verify if you are a right fit to be the part of the community. Career driven people who have no time to deal with crap and scammers in a dating App, The League App is for you only. You get matched with the desired partner in no time.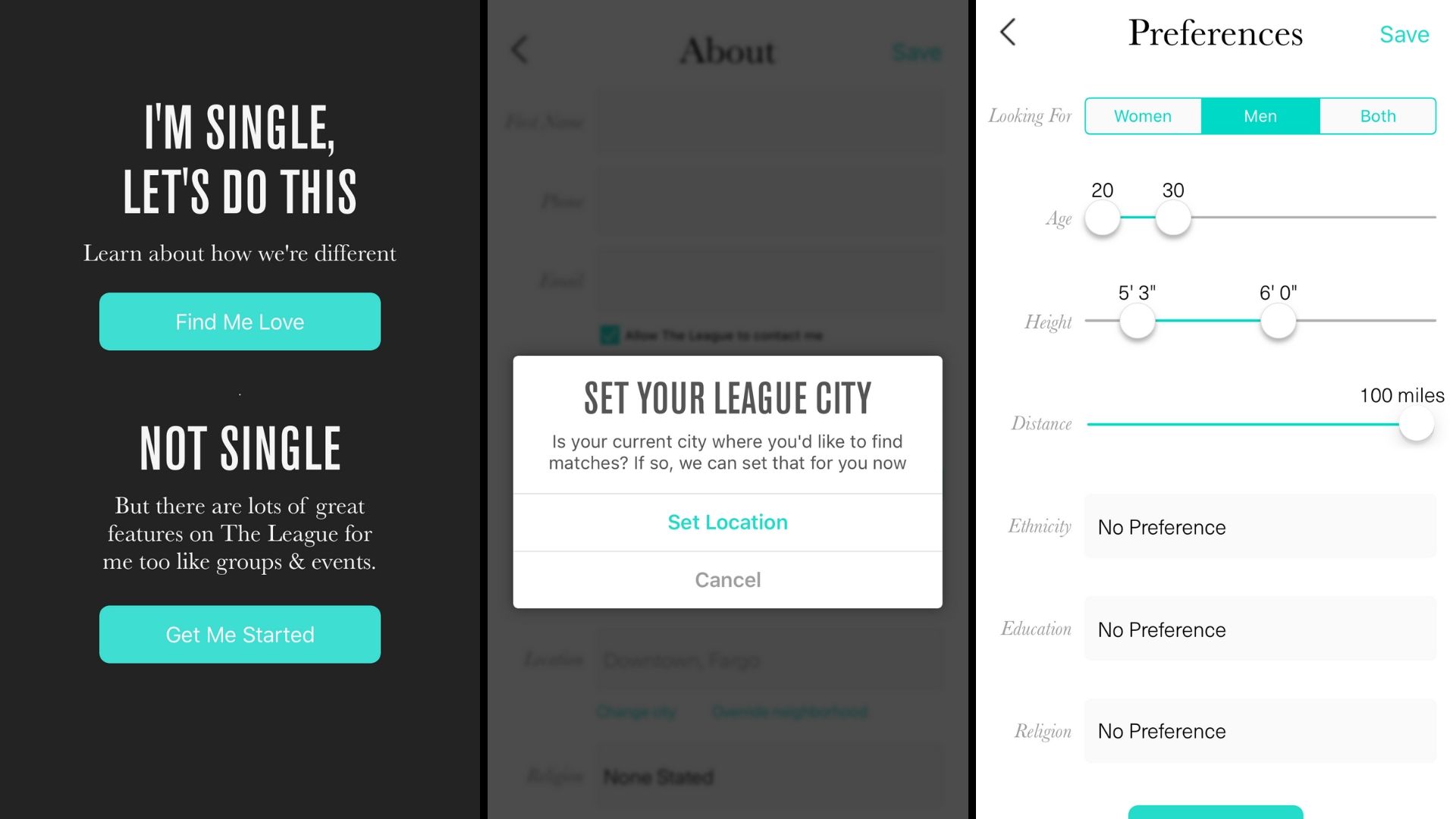 Signing Up Steps: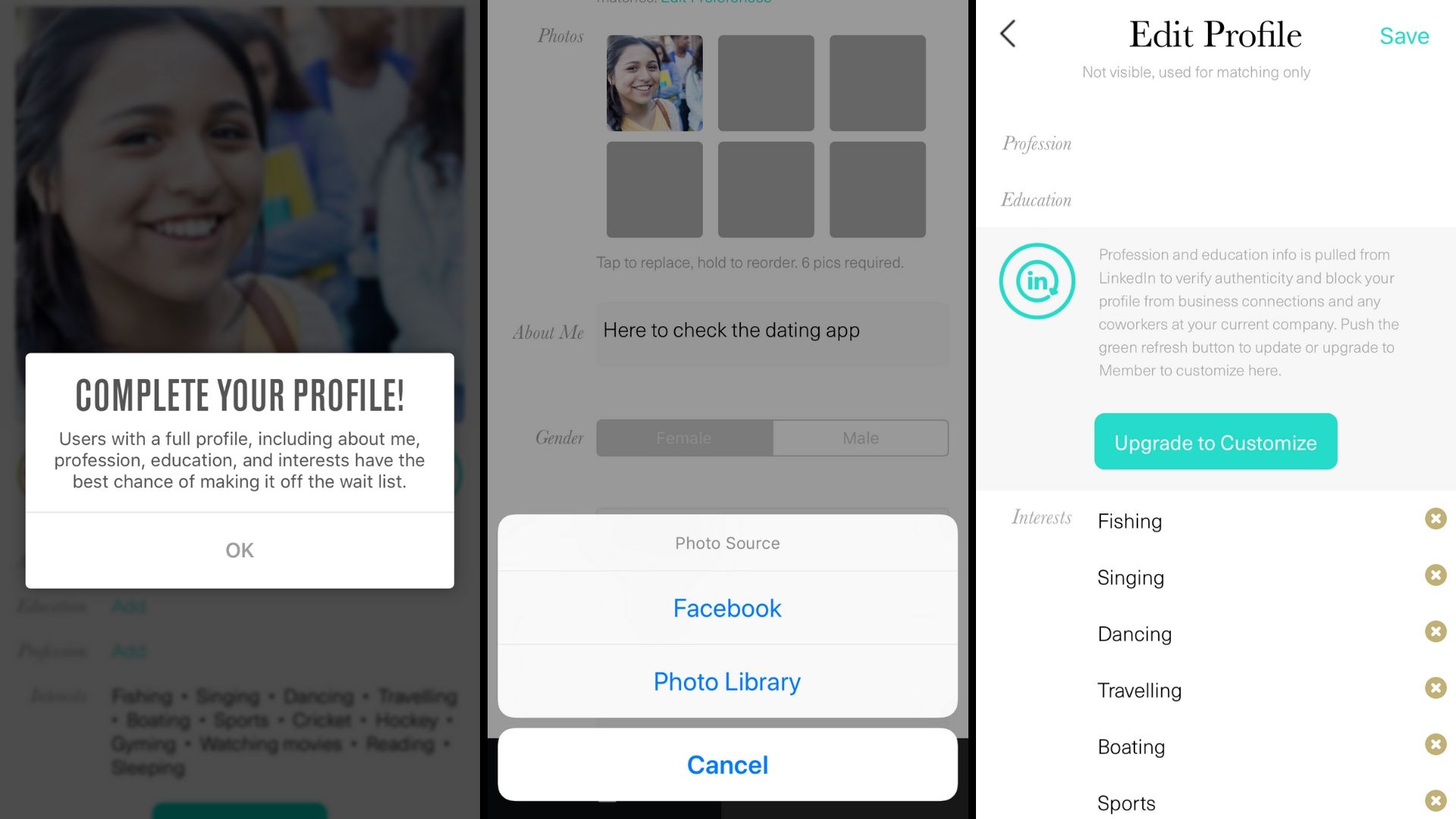 Sign Up at The League by linking Facebook or Mobile Number.

When you use Mobile Number to register into The League, it sends a verification code to your number.

Once the mobile number is verified, The League App would ask your intention of joining the App – For finding Love (Singles) or Getting engaged in The League's Groups and Events (Not Singles).

The League asks you to Set your Location.

You are then required to fill in details About you – Name, Email id, Height, Gender, Ethnicity, Location, Religion and Date of Birth.

Then comes the page to fill your Preferences – Looking for, Age Range, Height Range, Distance (5-100 miles), Ethnicity, Education and Religion.

Your Profile is now created and ready to Review. In this page, there are more information to fill and upload about yourself – Profile Photo, Description about you, Education, Profession and Interests.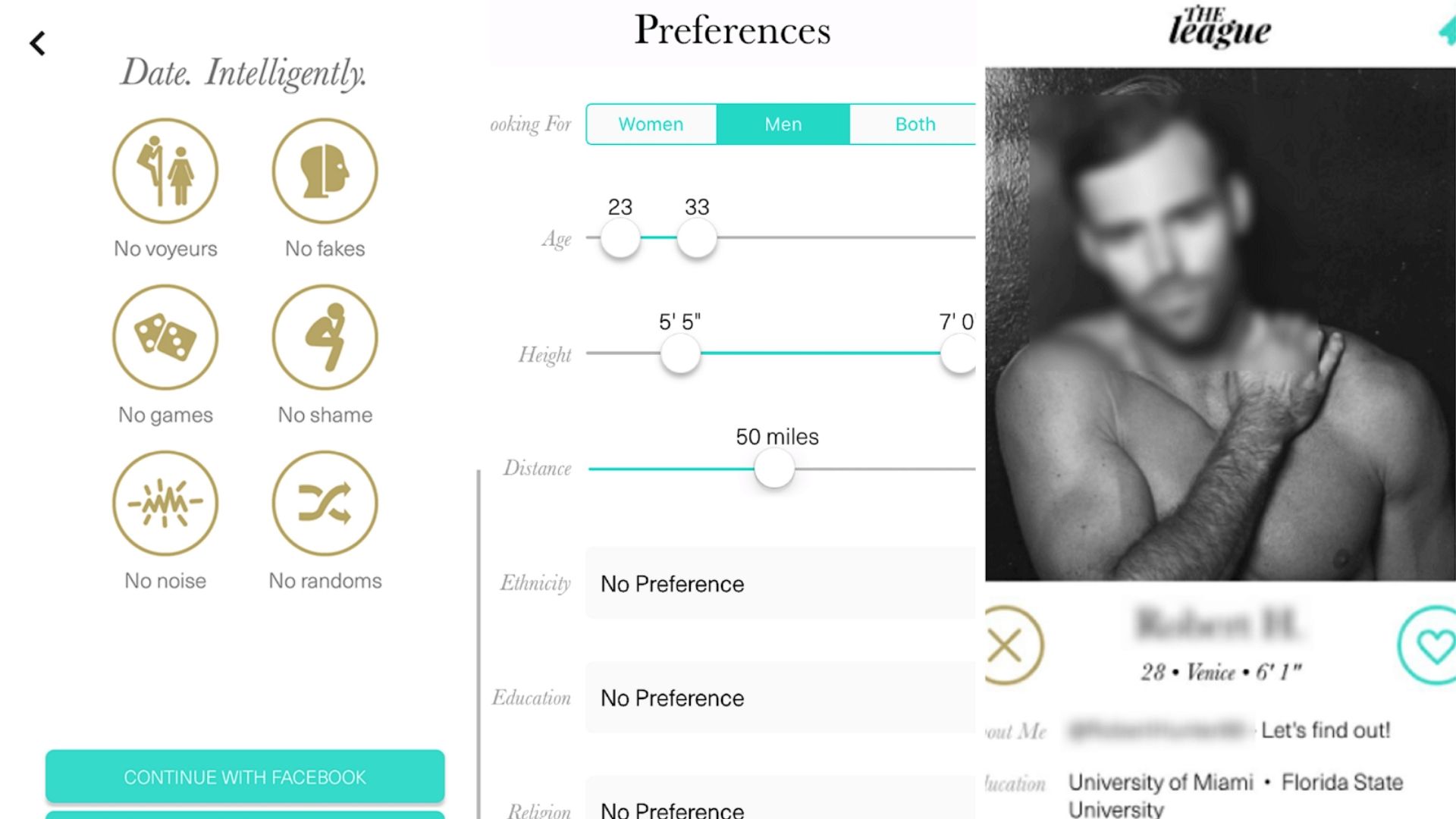 While adding Profile Photos The League App shows 2 option – Importing from Facebook or Upload from Device's Photo Library.

When you want to add your Education and Profession, you are shown 2 options to Import your details from Linkedin or Manually. The Manual updating of Education is only available to Premium members and not for Free members on The League Dating App.

You can Manually add any number of interests and Click on Submit.

Your Profile is now created in the league. But Wait…."You're on the waitlist for The League". Your profile will get reviewed by The League Dating App and you can begin using the App.

In order to become a member instantly, you need to purchase a membership plan. Or If you want to shorten the waiting time without paying anything, then you need to Sync your LinkedIn profile.
Top Features of The League Dating App:
No Voyeur: The League App doesn't allow any kind of fraudulent activities or scammers. You will be setting your preferences and your profile will be shown to the appropriate match who meets your set preferences and fit all of them only.
No Random profiles: The League has implemented high and advanced screening algorithm. When you swipe right on a profile you actually mean it and it's not just fling.
No Fake Profiles: Where dating apps are flooded with fake profiles and scammers, The League takes utmost care. They do research on social media of all the new users. You get only real profiles in The League. Due to the highly selective process of verification, you will see only real members in The League App.
Connect Facebook and LinkedIn: The League asks you to connect your LinkedIn and Facebook. This is done to serve 2 purposes. You get to access The League app completely and The League App takes care of your privacy. It hides away your information on the App from your Business connections, co-workers and friends. LinkedIn and Facebook account linking is mandatory to get verified in The League.
Expiring of Matches when no activities observed: In case you have swiped right on a profile but have never messaged. The sorry boss it's your loss, as The League will make your Match expire after 21 days. So, do not wait for your ideal match to message you first.
More Female members: The League App outnumbers the female members over the male with a ratio of 2:1. It is definitely the safest dating app to be in it.
The League Groups: You can get yourself added to the League Group to optimize your experience. This comes with a premium membership charge. Being a member of The League group grants you access to some special features like tickets for a match or VIP passes. This also gives your profile a highlighting feature. There are events organized within these group members to meet and interact in real life.
Improvements Needed:
High Membership Fee.

As the League brilliantly markets itself as the dating app designed for people with high standards. The membership fees also come with hefty prices and charged in each special feature.

Less number of matches. As there is a rigorous verification process, it is tough for a normal real user also to get into the App. Not everyone prefers linking Facebook and LinkedIn for opening an account in a Dating App. The United States alone has more than 100000 members in the waitlist.
Pending Approval even if Membership Fee paid already. The League App would prompt you to purchase a membership to shorten the Waitlist. By paying high priced membership fee you can skip the Facebook and LinkedIn steps only. It doesn't mean your profile would be approved and ready to use.
How Much Does The League Cost?
Membership Plans
No
Description
Price
1
1 month
$99.00
2
6 months
$199.00 – $33.17/month
3
12 months
$349 – $29.08/month
Ticket Bundles
No
Description
Price
1
5 Credits
$25.00
2
15 Credits
$60.00 – $4/credit
3
50 Credits
$199.00 – $3.98/credit
4
300 Credits
$999 – $3.33/credit
Membership Plans
No
Description
Price
1
12 months
$999 – $83.25/month
2
1 month
$199.00
The League App Membership Plans
3 months
$66 per monthPay $199 get 5 tickets quarterly
After Ticket Credit
$58 per month
6 months
$41 per monthPay $249 get 5 tickets bi-annually
After Ticket Credit
$37 per month
12 months
$29 per month
(Most Popular)
Pay $349 get 5 tickets quarterly
After Ticket Credit
$27 per month
How Many Users are on The League Dating App?
Not Available.
The current number of downloads on Google Play and on the iPhone app store:
Google Play Store – 100,000+
Apple Store – 200000+
Who Created The League Dating App?
The League was created and crafted by Amanda Bradform after she realized the scam goes in the dating apps. With the goal of creating a real dating app that removes all the loopholes for fake users to exist, she came up with The League in 2014. 
Customer Support Information for The League
League Customer Support Team can be reached by email at contact@theleague.com
The League App Reviews Summary:
League dating app is the first dating app to focus heavily on education and profession. Its exclusivity is clearly observed with the number of waitlists it has. It is not a dating app for the common people. It brands itself as the app for people with High standards. People pay hefty amounts to purchase a membership on The League app.
There are limited matches per day. When you pay League Tickets, your matchmaking process would get broadened and you would get more matches comparatively. The League is designed to search best to career-driven young professionals. Practically thinking the verification and filtering process they follow is brilliant and the best in the industry. But as far as the price is concerned, it is expensive.
In some ways this is a dating app like Bumble, read our Bumble Review and see what you think. Likewise, check out the table we have with Dating App Reviews. There we even ranked the most popular dating apps and share the key differences.
Comments
comments