STDFriends.com features, pricing and safety information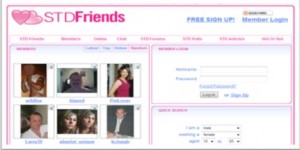 Introduction and history of STDFriends
STDFriends.com was launched in 1999 as an online dating site for people suffering from STDs. Is became one of the most popular platforms of this profile as it offers a friendly and warm environment, where people suffering from such diseases can freely admit their condition without the fear of being stigmatized. Members of this site can share their experience with people suffering from the same conditions, thus enabling them to create honest and real connections with other people without being judged and with a higher sense of confidence.
FEATURES AND AMOUNT OF MEMBERS AT STDFriends.com  
The total number of members of STDFriends.com is unconfirmed, as this type of dating site does not generally and easily release this sort of information, but it seems there are about 30.000 active members at the moment, from more the 15 countries, besides the USA and that the number of members keeps on growing.
STDFriends offers a free standard membership which will give the most basic options that are available on most online dating services.
Without upgrading here is what you can do:
Create your profile, upload your photo and your status message or choose an avatar
Search for people using a match-meter or even use the STDs as a criteria
Browse, search and view other profiles, photos, ads, events, groups and sites
Post blogs, vote on comments or profiles
Play sounds
Use the site store to add your own products or view/buy the products added by other members
Read numerous articles primarily related to STDs or on other subjects of such interest
Once you upgrade to a paid full membership at STDFriends.com you will gain access to the following features:
Edit, delete or approve ads, blog post, comments
Add or remove your own comments
Add sounds and videos or events
Download files
Mark groups, events or sites as featured
Create polls
Delete articles
Paid members also get:
Use of chat, messenger and shout box
Access to other members' email addresses
Possibility to edit avatars
Possibility to block other members by ip
STDFriends COSTS FOR FULL MEMBERSHIP:
·         30 days: $29.95
·         90 days: $59.95
·         180 days: $95.95
STdFRIENDS contact information
STDFriends.com can be contacted using the feedback section, where you can send your message to the administrators and then wait for their response.
STDFriends.com does not release further information about its founders or headquarter, except the fact that it is powered by BoonEx Dolphin.
CONCLUSION ABOUT STDFRIENDS:
The idea of STDFriends is quite an original one and indeed helpful for people with such a condition. Creating a dating site for people suffering from STDs give them the opportunity to feel free about themselves and, I would say, even more confident. They can connect in a pleasant environment, without having to go through the extremely unpleasant situation of letting the other person find out about their problem for the first time. There are no surprises here, as the main purpose is to encourage everybody to be as opened up as possible. Often, society responds in a judgmental and skeptical way to this sort of things and having a place where you don't have to feel different can really be like an oasis for its members.
You can try out STDFriends.com here…

Comments
comments