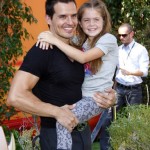 According to a recent article by Starpulse, Anastasiadate, a popular Russian women dating site has tapped Antonio Sabato Jr. as the new spokesman. The star-studded, happily married father offered up his advice for online dating in their article which we linked above.
Antonio Sabato Jr. is perhaps most well known for his past role on General Hospital.
Here is the YouTube video interview of Mr. Saboto sharing more about this dating site. Evidently Anastasiadate is one of the fastest growing international dating site and the company felt he was a great person to deliver their message.
Mr. Sabato was a little fast and loose with his stats but his interview came across as genuine and he probably has proved so far as a good messenger for the site.
Besides some of his own projects he also shared that Anastasiadate has some new features coming like Speeddating and games. Anastasiadate may or may not be the fastest growing online dating site but it is one of the best dating sites to meet Russian women online. Anastasiadate is also not near as expensive as many competing online dating sites, whereas if you join this site for a year the actual cost to you is about 10 bucks a month, meaning that you may actually spend more at Starbucks over a weekend. Anyway, here is the interview which I though was pretty interesting!

Learn more about the site by reading our Anastasiadate reviews here.
Comments
comments