Now that the dust has settled since attending the 2014 iDate conference and annual awards ceremony down in Las Vegas I wanted to share my thoughts on the event. Perhaps for those of you that have not had the opportunity to attend an iDate conference and are maybe considering going this will be useful.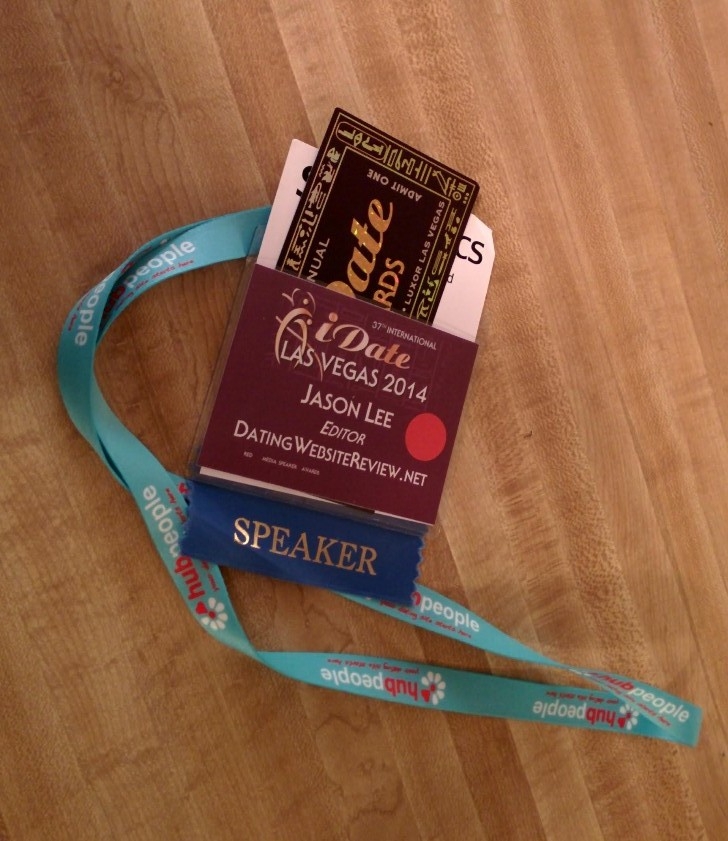 Here are my own thoughts on the Internet Dating Conference, including my overall impressions of the event organization itself. Basically for anyone who is wondering, was the event worthwhile and would I go again, here is your answer.
First off, let me just come right out and say it. YES, I would and will be attending this event again and I expect it will be a regular conference for me. We thoroughly enjoyed the event, met lots of great people in the industry, and most importantly learned a lot about the internet dating business by attending iDate.
Really, I think if you are in the online industry there is no reason why you should consider missing this conference.
Just so you can get a better feel of what it's like to attend the conference, let me go through the various elements of this most recent iDate event, from my own perspective in all the various angles.  
iDate Conference Organization: I also had a chance to attend Internext Expo and Affiliate Summit 2014 and in comparison to both those events I felt iDate was a much, much better organized event. Speakers showed up timely, schedules were clear and it was very easy to understand what was going on, starting and ending times, and where to find each workshop. As someone who likes to get an early start I also appreciated the a.m. start times which jived with when most business people typically like to start their day.

iDate Conference Venue:  The choice of the Luxor was affordable and the special room rates kept my overall costs down plus allowed me to easily access all the workshops within a few hundred feet of my room. Tender Steakhouse at the Luxor, a solid 4 star restaurant was also a great choice for lunch breaks between workshops and it was great that these meals were also included in the price of entry to iDate. Not many conferences include meals, nor meals as tasty as those we found on offer at iDate.
But what about the event itself you ask?
Speakers / Take-ways: The workshops themselves introduce you to some of the brightest minds in many different facets of the online dating business. Whether it was talking with bright young executives like Doron Kim of eDating For Free, or industry pioneers like Markus Frind who is the creator of one of the worlds largest dating sites in POF.com; people who are doing big things in the dating business seem to be at iDate.
This is also reflected in the speakers you will find at this event as well and the topics that are covered. They are all topics that are front and center for businesses looking to grow in the online dating space.
In particular, some of the topics I got the most out of were the mobile advertising discussion with Kevin Feng of Moxy Media, the panel discussions which offered a very wide variety of perspectives on emerging trends in the online dating business, and in particular the state of the online dating industry presentation by leading industry consultant Mark Brooks who is also the editor and founder of OnlinePersonalsWatch. The speed networking event and the buyers and sellers session were also very valuable for us.
Some of the people I most enjoyed meeting besides those listed above were Julie Spira, Cyber Dating Expert, Marcel Cafferata creator of MobileVideoDate.com, Carmelia Ray of DatingLoveandSexTips.com, Andrea Miller, Founder and CEO of YourTango.com, Gary Taylor U.S. Territory Manager for WhiteLabelDating.com, Meier Strahlberg CEO of Avalanche, LLC which owns Date.com, Aaron Stein Director of User Acquisition at HowAboutWe.com, and others. (Really too many to list). I came back from the event with over 300 business cards.
So if you are asking, "Is it worth attending iDate?" I can tell you that yes, it absolutely is worth it.
For anyone in the dating industry or any supporting industries, the connections you can make as far as hearing what other people are doing and how they are doing it, make iDate well worth the trip and time. The actual insights you glean from the conference workshops though are just as rewarding.  An example of this is the cross utilization of leads via API's which is a theme that was widely discussed as were various mobile marketing strategies.
Affiliate marketers can also benefit greatly from frank discussions on what geo's or countries are converting well with dating site offers. This is information that can save you lots of money and time in doing your own testing. If nothing more it can point you in the direction where people are seeing the best results.
New dating site operators can learn about the latest tracking systems for their ad buys and what is changing with various advertising platforms.
Really, no matter what angle your coming from, if you work in the online dating business you really get a lot out of attending iDate. That's a wrap on my thoughts and I wasn't paid a dime to say any of this. It's just a really great conference. Period. I hope to see you at a future iDate conference. Find out more about the next event iDate event here.
J~
Editor, DatingWebsiteReview.net
P.S. – I also wanted to thank the two biggest sponsors of iDate 2014 Las Vegas, TogetherNetworks and DatingFactory. Thank you for helping to make such a great conference possible.
Comments
comments