Professional Singles Over 40 reviews 

ProfessionalSinglesOver40.com is a relatively new dating site that recently came up on our radar as a site that  is advertising on PlentyOfFish.com (review of the pof dating site is at that link).
Anyway, here is what we were able to determine by taking an hour or so to try out this dating site as well as some information we found in our research online. Remember you can share your own experience on ProfessionalSinglesOver40.com by clicking the, 'Leave a review' button below. Being that this is a fairly new dating site not much discussion seems to exist nor is much being reported. Here is what we have so far.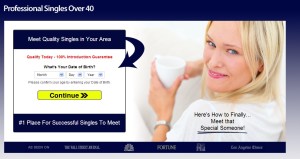 Introduction and history of site
ProfessionalSinglesOver40 is clearly a very niche dating site looking to attract just what the very generic domain names indicates, those who are over 40, single, and professional. However who are they and how many members do they have?
ProfessionalSinglesOver40.com amount of members
There is no way to tell. Alexa indicates a very low level of traffic historically though at that URL leading us to believe they may not really have enough members across the US or anywhere to support charging membership fees. We  did read on another dating review site that this site was owned by Match.com. We believe that is false. Match.com is much more transparent with their dating sites. Below we are reporting on who we believe operates this dating site.
ProfessionalSinglesOver Features
When we visited the site we found a reasonably well set up site with all standard features one would expect on any modern online dating site. These features included.
Search by area
Search by age
Favorites and a few other standard features.
Cost for members
1 month: $24.95
3 months: $19.99
Corporate Info / Contact info:
We could find no support email address and no business name besides that URL. Their is one email address for clarification on their privacy policy which is privacy@professionalsinglesover.com.
Their address was reported as: ProfessionalSinglesOver40.com
15851 Dallas Parkway, Suite 600
Addison, TX 75001 (That address is a match for a company called Debt Arbitrators with many complaints, white it could be an entire coincidence this raised some concern) Reports  of scams such as this one were common coming from that address.
Concluding comments / our impression of this site:
We don't yet have enough information on this site to offer much insight which is in and of itself a reason for us to suggest a cautionary approach. These days it is just too easy for webmasters to set up a dating site with little to no members and claim whatever they like. We also noted that this site does not rank for the exact term anywhere on major search engines for the exact term of what they offer which also raised some concern. This site does indicate the photos used on the site are in some cases models in their fine print on the welcome page. We were able to determine that they are owned by a company called International Dating Ventures, Inc. and that this site was first launched in 2006 which has less than 150,000 total visits each money. As it turns out this dating site company also does co-branding solutions so they may operate under many urls. (therightone.com and togetherdating which is no longer online may also be owned under this same company) They also maintain, as best we can tell no social media accounts on Twitter or Facebook for dialogue about this dating site. (All again suspect)
Therefore, my advice, at least until there is more transparency on this site is to stick with a more proven place to join as a paying member so that you can ensure you get some value for your money and have a greater likelihood of actually meeting single professionals over 40; or anyone for that matter.
Here is a free trial for match.com
Comments
comments