Communication is the key…
Dear YouTube,
(Please read updates below. If you own a business and buy Google AdWords this should concern you). Think twice before you invest in AdWords to build a YouTube Audience.
________________________________
Original Letter to YouTube 3/27/2014
I spent 7 hours on hold today trying to get through to your corporate office just hoping to reach a real human being to whom I could simply explain what has transpired with our business channel on YouTube.
Please hear me out….
I am having repeated issues over the past year with people stealing and re-posting videos. What they are doing is flagging all my videos, then stealing them so that my channel gets removed only use those videos to sell things. They'll downloaded these same videos I own to re-purpose them to sell their own products while claiming my videos violate the TOS. My videos are merely me speaking about dating sites. There are dozens of other channels just like ours in all industries.
Let's speak frankly…
As a buyer of AdWord ads and partner in AdSense and a small business person I am not alone in my frustration over lack of ability to trust in the reliability of YouTube as a place to place content—content I own and that is content that people search for and want to watch. Okay, so my content may not be as good as Discovery channel or anything but, it's still content that explains costs and features to dating sites; something people do want to see. (Please also keep in mind as well that this is the same content that sells advertising on your platform) Please also keep in mind I have spent countless valuable hours in time over the past years in researching sites and making these videos. My videos do not have anything in them besides me speaking about dating sites. There is no music nor any logos, just some chubby 36-year-old dude talking about dating sites. Right? I mean really.
It's hard to envision that they would in any way violate your TOS.  We offer honest and transparent consumer reviews on dating sites. Period. Our business model is based on affiliate marketing (which we realize you do not love) but we NEVER place any sort of AdFly type links under videos. We never place a video for the sole purpose of taking traffic from the platform except to the extent of sharing our either special deals or promotion, all of which are done no differently than thousands of others on YouTube who have been there for years and continue to be there; without issue.
Moreover, a quick cursory glance at the Google search results page for, 'Dating Site Reviews' renders sites that promote the highest paying affiliate programs and have numerous half-baked reviews that are clearly not real. They've got high advertiser scores. (I am not crying foul or starting a petition but….um yeah, Seriously?!)
Would it be too much to ask that you merely communicate with me as a small business owner if there is an issue so that I can resolve the issue and avoid this epic hassle and major stress over worrying hundreds of videos are gone? If rational and logical human beings can communicate and have a method by which they can do so, these things can be avoided, RIGHT? YES, problems can be avoided. REALLY they can. Communication is the key.
As it sits now, after two days I cannot reach anyone at YouTube and I cannot even file a DMCA on this person who has stolen my video because you have me blocked out of that process as well. Yes, banned users cannot even access the DMCA filing. Not sure who decided that was a good idea but I'd like to report this video….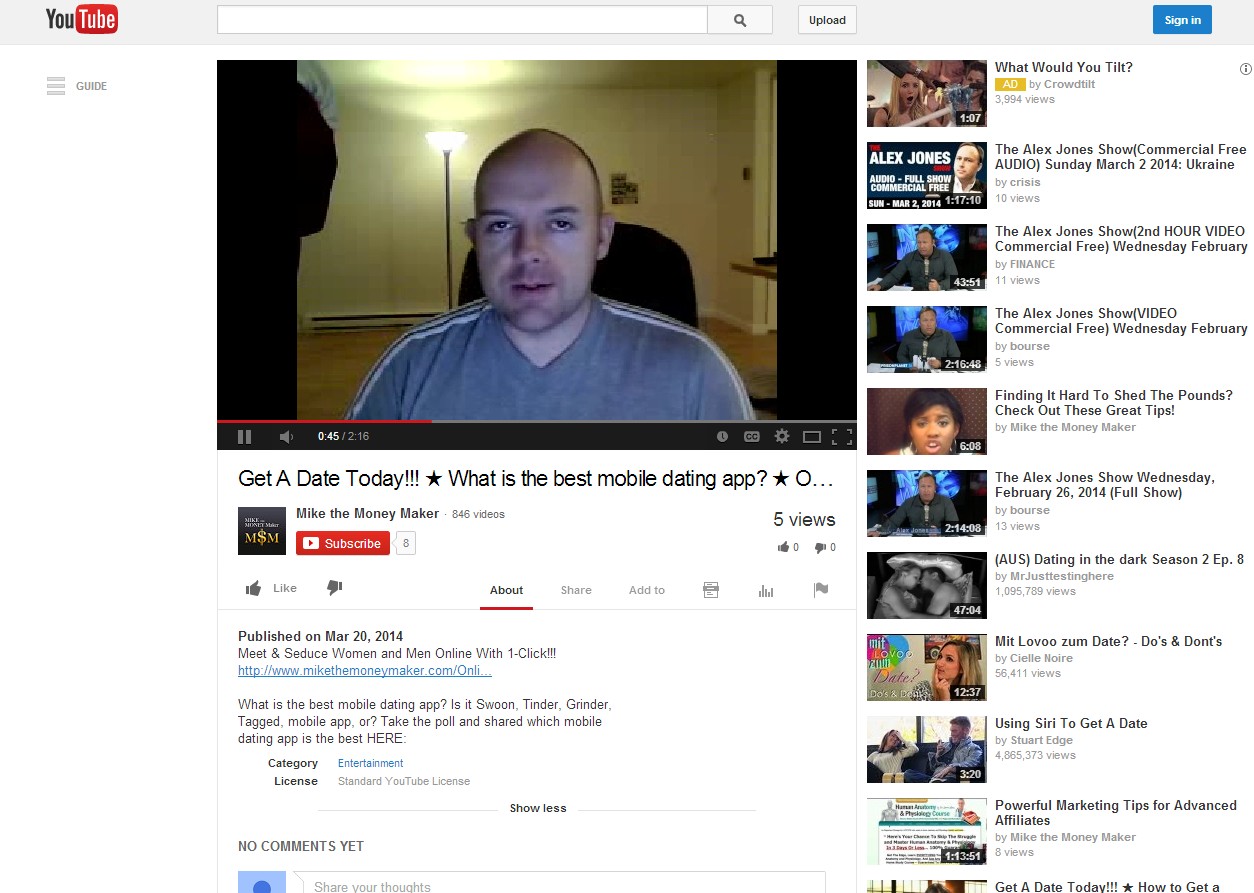 This is the offending video: (Stolen video that was re-uploaded and reused for a purpose we did not authorize) http://www.youtube.com/watch?v=32vtvsY7BtU
This is the channel: http://www.youtube.com/channel/UCGDZkgIyaKpW5Dc8Qjg0PAQ
This is the G+page of the person who has committed large scale identity theft: https://plus.google.com/118434886024951909811/posts – over 900 stolen videos
The 2nd time this has happened…
This happened to us 4 months ago as well and costs me days of my time. I'd never had a strike or any warning on my account, no YouTube my name is not Milli Vanilli and I only post stuff I actually own and create myself. Ughh! Then within 15 minutes after my channel was down last time IRONICALLY my videos were stolen as well and I had 3 strikes at all once. How in creation is that a warning? Nothing was ever explained and my revocation was changed to a suspension. Therefore, I have not posted for like 4 months on YouTube. I was waiting until all my access privileges were restored which was due to happen in another 45 days or so. I even went so far as removing some video just to make sure that everything was as crystal clear as possible as far as what the channel is all about.
Now again, yesterday people in the industry looking out for us emailed us sharing that this URL shown above was me and they could clearly see that it was stolen and was not something I would post. (Obviously not since it was not on my channel)
Evidently I am not alone in my concern about your process(es) with people and businesses YouTube channels being unfairly removed or being assigned strikes without clear explanations of policy or policy being selectively enforced. Others I am reading online in many, many places online are getting these 3 strikes back to back, as well; without warning.
Below is a screen shot of the offending channel that stole my video then re-posted it. Evidently this is the same entity that has flagged a bunch of my videos to successfully take down my channel.
Just a FYI, Clickbank was notified and took immediate action and banned this person who posted the video on your platform from selling their products. THEY TAKE PRETTY SWIFT ACTION. Likewise the owner the product was response and helpful as well. My point you ask? Communication was the key.
YouTube is the future, I love YouTube…but YouTube you needs to work out this process and simply communicate with creators and specifically small businesses that use your platform. Otherwise people will not trust placing their content on your platform for fear they may wake up one morning only to have it disappear.
Please if you can be so kind as to restore my channel and just simply email me if there is ever an issue or any sort. I work full-time online and you can bet that If I get an email from Google or YouTube I drop everything, pay close attention, and immediately write back and comply with any directions. I rely on your awesome products and services all day everyday. This is important stuff to me….but isn't simple and clear communication the key? May I please have my channel back now? Or even an email to tell me what in creation happened? (I have not even posted a video since this happened last time.) And can this person who has stolen my identity to hawk Clickbank products please be the object of your attention? 
I would list my email but your Google and I am pretty sure you know right where to find me. 🙂 (In my account)

NOTE: I have also written you a letter via snail mail and written your corporate office executive team an email. I won't hold my breath on either method, but considering there is no tel. # to call I am not sure what steps Google suggests to report things like this considering I am also currently blocked out of the DMCA form.
UPDATE #1 —3/29/2014:
Still not resolved. After 3 days and probably 45 hours working on trying to reach anyone at YouTube I got this email: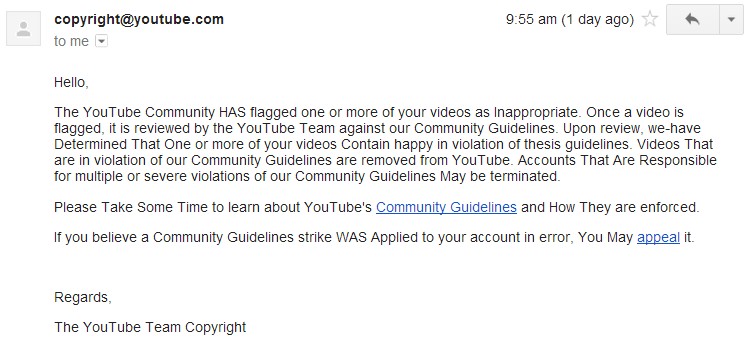 Unfortunately given the fact that my account is blocked I cannot use the appeal function, much like how I cannot file a DMCA for the person who flagged our videos and stole my identity to use my own videos to sell clickbank products. Ughh! What a nightmare process. So, back we go to more ways to try to reach YouTube and share the system is broken.
Also, if ANYONE knows what this means, "videos Contain happy in violation of thesis guidelines" I would LOVE your help!
Jason@DatingWebsiteReview.net
Update #2 — 4/1/2014
5 days later I now have an email that says it was not what they said it was but a violation for doing a consumer review of the site called Adult Friend Finder.
However, if you go to YouTube and search for 'Adult Friend Finder reviews' you find these urls.
Why are these sites playing by different rules? The reason why is because our channel had more reviews on dating site that ANY other channel.
NOTE: Additionally many videos that discuss the same content and are titled the same are older than ours.
Moreover, take a look at Tara Millers page of www.DatingWise.com – she's got the SAME EXACT VIDEOS ….No issues for Tara: http://www.youtube.com/channel/UCb-acI7FfLvw0BKFZM3kQ1Q
The bottom line is this is unfair and unethical YouTube.
All day, everyday I will be working on getting this address until it's resolved YouTube. We paid you (Google thousands in ads to develop our audience) We had over 200 review videos with no sexual content and nothing that was a copyright violation. SOMEONE DID NOT LIKE A BAD REVIEW AND THEY ARE FLAGGING OUR VIDEOS.  However, you (YouTube) nees to get this resolved and get the channel back up. This is absurd and small business should have a number they can call or an email they can report these things to!
How can you YouTube expect business to build channels and invest in ads when this nonsense happens over and over. For 4 months we did not even touch our channel b/c this happened before and we were waiting until the last unjust suspension was up. Again, the same exact issue. First you said it was a copyright to us in an email then you changed the explanation to 'NO EXPLANATION' saying it was a random community violation. However, our communication logs demonstrate along with what was in the video that there was no content different than: Tara Miller of DatingWise.com has on her channel. TAKE A LOOK: http://www.youtube.com/channel/UCb-acI7FfLvw0BKFZM3kQ1Q
So women can do dating site reviews and operate on a affiliate model but men are not allowed??! We'd love to hear the explanation. After a week of wasted time I am really frustrated to say the least.
Our primary  business is doing consumer dating reviews which are honest. We spent thousands of dollars in advertising with Google AdWords to build our YouTube channel audience and thousands of hours researching and making videos. The reason we have no basis for this removal is simply because there is no basis for it. Period. Please send me an apology and restore our primary business channel. Please. That is all I am asking is for some common sense and communication. I have tried all methods to reach you, including emailing press@YouTube.com.
http://www.google.com/about/company/philosophy/ ….is this REAL?
Update # 3 — 4/10/2014
We have now spent more than 80 hours trying to reach YouTube. We've twice emailed legal support and reported our videos and provided screenshots proving what has occurred. No action has been taken and no replies back to us. We mailed a letter 7 days ago and no response to the letter has been made as of yet either. Today I am posting to the Product Forum in hopes a YouTube representative may read that. I continue to be AMAZED by this experience.
Update #4 — 4/12/2014 – YouTube Product Forum
As you will read above still no follow-up from YouTube or correspondence at all. However, those who volunteer at YouTube product forums also offer no true support to have our copyrighted material removed and our channel restored (All content we own and bought ads from Google to promote which is central to our business) .
See thread here: https://productforums.google.com/forum/?utm_medium=email&utm_source=footer#!msg/youtube/AtCh2brm1jI/kosUedmtUqgJ
Update #5 —-4/17/2014
We have now spent 2 weeks and over 120 hours dealing with this. WHAT A TOTAL NIGHTMARE – THE YOUTUBE COMMUNICATION CHANNEL IS COMPLETELY BROKEN.
What this illustrates as clear as day is that Google is allowing someone to use our own video which they stole the same video from our channel which they flagged and had that video removed. This is the pinnacle of hypocrisy.
Update #6 ——5/3/2014
The only video ever uploaded by me at any time that was not made by me and only showing me, but was authorized for us to post we took the extra step of contacting the owner of that video which was iDate; to ask that they make sure they did not file a copyright claim on the video they asked us to post.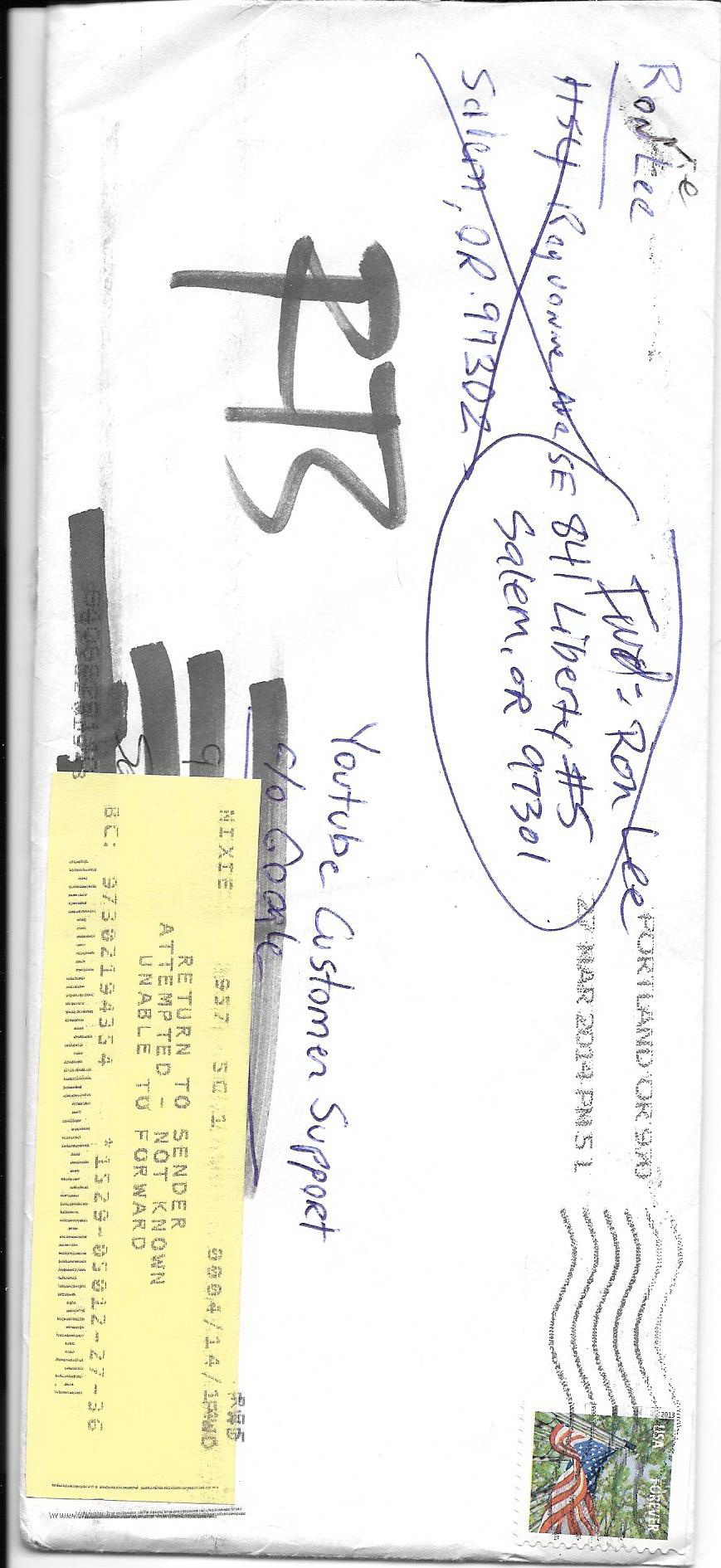 iDate contacted YouTube and got an email back about a week later stating that the channel was not removed because of that video. There is no other video that I did not make myself that was ever posted on our channel.
We've written YouTube 74 times to date via email and never once gotten a reply. The only email we ever got said we violated a copyright from 'Happy by Thesis".
I have contact the U.S. copyrights office and no such copyright is registered under that name.
We also mailed YouTube and this was the result. (Image to the right shows the letter was not opened but instead returned to sender)
I am truly amazed that a company who many of tomorrows businesses use as a tool does not have any sort of system in places to properly communicate with YouTube creators. One email and someone dedicating no more than 10 minutes on this issue could resolve the matter and clearly ascertain that we never violated any TOS with our consumer dating site reviews.
Moreover, we both paid Google as a company a considerable sum of money over a long period of time to build our subscriber base while also producing content that good once more sold more advertising from. 
Comments
comments