Greetings and salutations fellow online dating industry professionals. 🙂 I just wanted to pass along a note that we have created a Google Plus community for Online Dating Industry Professionals. In light of the absence of such a group it seemed fairly clear someone needed to do it. I will be adding administrators as more people join in order to make sure all views and interests are well represented within the group. Also we hope to develop permanent links with your help within the community that best serve all.
For now I could think of just a few which I added including the iDate conference(s), the new Online Dating Association, and the most established online dating news source; Online Personals Watch. We'll add and adjust existing links within the community as things change so as to be most relevant to resources that are of use to those working in the online dating industry.
Find the community here – Online Dating Industry Google Plus Community.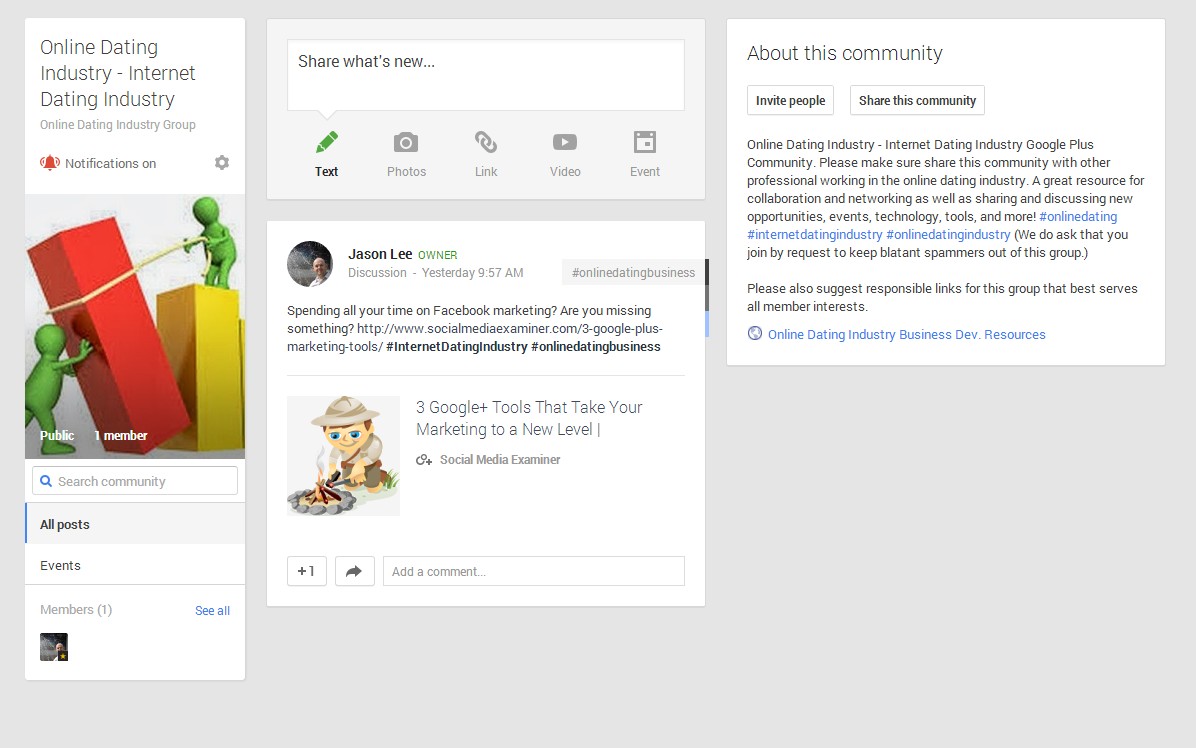 Why you need to be using Google Plus… 
The fact is times are changing and content marketers are finally starting to really use the tools Google Plus offers. I have been and continue to watch closely as this happens and I can already start to see the snowball effect kicking in. Overall more and more people are now using the Google Plus platform. It is the future and the time to get a head start in building your circles and presence in Google Plus in your industry is today.
If you have not been spending much time on Google Plus you may have not noticed all the new communities and pages that are popping up.  All interests and niches are being attracted to the platform as other early adopter content marketers are drawing the min via pages and communities as well as cross sharing to other platforms. Likewise new tools are constantly being introduced by Google for content marketers that work in sync with Google products and service.
The Bottom Line…
More of your potential customers are using Google Plus, both from their desktops and their mobile devices! Most of you probably know this is all true. So, we thought it probably made sense for those of us that work in this profession to have a place to share ideas, events, jobs, tools, technology, and more. In order to keep spammers at bay we've set the community as open but you must click on request to join. I will approve all requests immediately or another admin will–we just wanted to make sure it's not rendered pointless by spammers. This method of pushing this community out as an added resource should help limit the amount of spam posted within the community so that it's more useful and relevant for all.
Anyway, if you work in the Online Dating Industry I hope to see ya at the Community!
J~
Comments
comments