There's a new dating app in town and it's not what you might expect! The dating app that screens dating sites has arrived. Have you even considered that maybe it's not the people you are meeting but rather the dating sites that you're using? DatingChimp ®, The Dating Site Reviews App has 1 purpose and 1 purpose alone; helping you find singles dating sites that best fit YOU; dating sites with more REAL, LOCAL singles in YOUR area. NO REALLY! Listen up!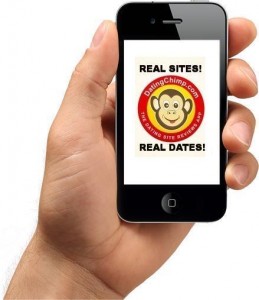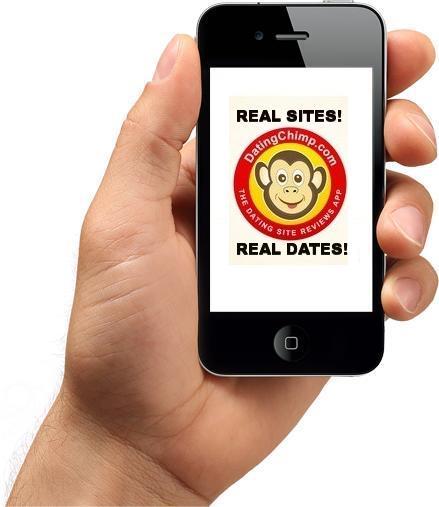 What is DatingChimp®?
Once you install DatingChimp ® the app asks you 7 simple multiple choice questions. Not 37, just 7! (All in good fun poke at our friends at eHarmony 🙂 ) Anyway, based on your 7 unique multiple choice responses the app then takes your location, lifestyle, and dating preferences into account and returns 5 dating sites that based on YOUR OWN PREFERENCES & REAL CONSUMER REVIEWS, best fit YOU. The data for the algorithm is not just aggregate IP protected reviews but also details about the following collected directly from our reviews database. That includes:
Membership costs
Total members
Features
Contact info for the owners of the dating site
Best of all the DatingChimp ® algorithm was specifically designed to only consider dating sites which are pre screened to meet minimum requirements. The reviews process is all done manually by me, Jason Lee. I set out to exclude dating sites with small databases and low engagement levels. I also exclude dating sites that do not disclose all associated fees to join their site. In other words, I cut out all the crappy dating sites and include those that collectively our aggregate reviews system and I deem are the best of the best, all again based on our 7 proprietary review metrics.
Why you need to try it? REAL TALK!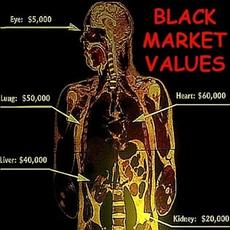 The fact is 95% of all dating sites are very low quality.  Those sites cannot justify charging you a dime to get full access to their dating sites.
Let me explain the issue to you in a slightly different context. In many cases, if dating site operators were physicians they would harvest your organs and sell them auction to the highest bidder. NO REALLY! Let me explain. This is a numbers business my friends, a business that has nothing to do with making REAL, lasting connections unless you are in the 5% that REALLY UNDERSTAND that your brand and the user experience that you offer, REALLY MATTERS! In order to verify my claims all one needs to do is run a cursory search of the terms, 'Free Online Dating'. From those search results you will quickly see that across the board most dating sites are now claiming they are, 'free' when it fact they are not free. They are though completely USELESS unless you pay for an upgraded account.
The problem though is much, much more complex than even that. Let me explain. These days the barriers to starting your own dating site are incredibly low. As a result you will find dating site operators copying well-known brands with wild membership claims which are NOWHERE NEAR their real membership numbers. Then you have thousands of new dating sites that are buying harvested fake profiles as well. (Don't believe me? Go Look!) Couple this fact with the reality being that each and every day dozens of new dating sites pop-up! NOW YOU CAN SEE WE HAVE A REAL PROBLEM!
When you use DatingChimp ® shady dating sites don't stand a chance! Here is why…
How does it work? …and What is the Algorithm based on?
Let me just say that there is nothing complex at all about the DatingChimp ® app.  However, that is exactly why I think it is so useful for people who are on the go and just want straight answers on good dating sites; dating sites with lots of REAL members LOCAL to them LOOKING FOR SIMILAR RELATIONSHIP TYPES. The fact is thousands of people use DatingWebsiteReview ® on a daily basis to research online dating sites. The reason people appreciate the insights we offer, in our dating site reviews, at this particular website is because we put real past user reviews front and center. We also focus first and foremost on sharing facts before our own opinions. Our proprietary 7 metric, 5 star ranking system is 100% original and exists only at DatingWebsiteReview.net. While 99.9% of review site operators hide behind a generic domain, post fake editor names, and even post FAKE reviews to game search algorithms, I put my REAL face and my REAL name FRONT AND CENTER. I also reach out directly to dating site operators large and small to collect and verify the facts. This is what separates DatingWebsiteReview from thousands of similar dating reviews sites and it is this information that which we gather in a PROFESSIONAL and DETAILED manner, of which the DatingChimp ® app then packages and makes use of that can REALLY help you in your online dating pursuits!
So what are you waiting for? Try online dating my way…GO CHIMP!
Try DatingChimp ® app, the first of its kind dating site reviews app for the iPhone. Take the 7 question matchmaking algorithm and see which dating sites are the best for YOU, based on what YOU WANT, and based on WHERE YOU LIVE!
UPDATE:

The Dating Site Reviews App is Now Live!

Attention Dating Site Operators: DatingChimp ® algorithm is slated to be updated annually. In order to be included you should set your eyes on receiving a nomination for the Golden Heart Online Dating Awards. Recipient sites are awarded with inclusion in the following update to our app. You should also share your reviews page at DatingWebsiteReview and share why honest aggregate I.P. protected reviews are important to the online dating industry.
Comments
comments