This past week we heard the exciting news that Match.com dating site has introduced a cool new feature which allows you to get the top search result spot within your city for a set period of time. In my opinion this is a sign of what's to come with more and more dating sites. It just seems to make a lot of sense and clearly there is a value to being listed higher in search results.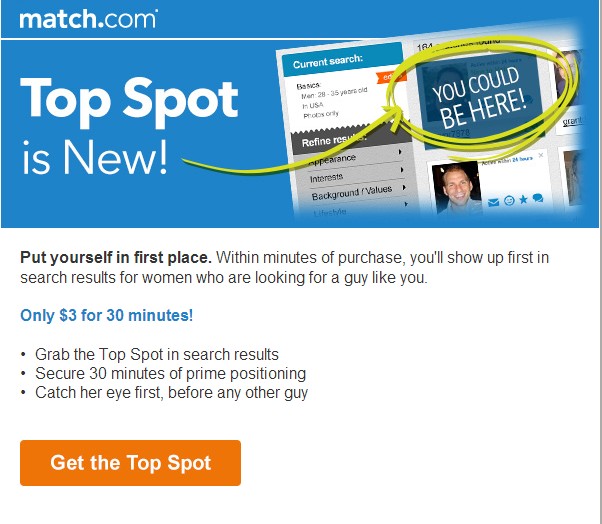 While I have read a number of columns from people who claim that you look desperate by having your profile highlighted or making it stand out, I have to disagree.
The idea that someone is turned off by the mere fact your profile stands out fly's in the face of any and all logic. Think about it for a second….people don't spend time judging until they see photos or read what you have to say. Clearly having more eyeballs from local singles reading your profile and seeing your pictures will increase your responses which will increase the number of actual dates you end up getting with your online dating efforts.
Here is how Match.com is pitching this new feature…'Put yourself in first place. Within minutes of purchase, you'll show up first in search results for women who are looking for a guy like you.'
How Match.com top spot works
For just $3 you'll be listed as the first match for 30 minutes for the time of purchase. That means your profile is listed first in your city for 30 minutes or as Match.com says, "Secure 30 minutes of prime positioning
Catch her eye first, before any other guy".  
The bottom line: I think this is a great idea and I anticipate it's just the beginning!
Here is a free trial for match.com for February 2014 in case your still single. Don't forget valentines day is right around the corner!
Comments
comments