Awards developed around reviews with the intent to deceive are fraud.
Reviews for products and services are an important element in commercial transactions for good reason. Consumers seek to learn more about a products or service from others who have specific knowledge based one experiences and/or their own independent research. Consumers often cross check information that claims to be expert opinion before they commit to buying something. They do so to feel as though they have made an informed decisions which they believe was based on reliable information.
In the digital age people use search engines to locates these, 'reviews'. A secondary term that consumers search for when they seek similar qualified opinions and information is the search term, 'awards' accompanied by a product or service. Again, the reason consumers do this is because they want to know which products or services, in the case of what we are discussing today dating sites, are considered to be the best of the best. As one should be able to reason, an award would be an actual award with an actual process to determine the winners and losers.
Merriam-webster.com has the definition of the word award as either, 'a judgment or final decision; especially :  the decision of arbitrators in a case submitted to them or something that is conferred or bestowed especially on the basis of merit or need'.
One would hope that if it were the latter, that this 'need' would be a social benefit but that in most cases awards ought to be based on merit. Merit ought to be explained and measured against something; otherwise the whole process is in fact arbitrary. So that is what an, 'award' is and I would assert that if you are considering creating an awards that you should think about that as well as the awards long-term objectives. 
I sharing this because a common theme with internet marketers is to go out and slap up a site and then claim that the site, 'is something' until it is. The old cliche, 'fake it till you make it' applies…or does it? That begs the question, what if you make no REAL effort to acquire or share real information and real facts and you actually intend to mislead consumers for your own financial benefit? What if your reviews are intentionally written to deceive consumers? What if you set up a site to trick consumers into believing there was some merit to your award when your award had no metrics at all? Worse yet, what if the metrics were metrics that benefit you' most, intentionally designed to maximize your profit in every possible way.
Why are you asking what if? Sites of this nature are currently a major problem online.  This appears in our opinion to be the case with a website called InternetDatingAwards.com. InternetDatingAwards.com purports to offer, 'Online Dating Awards' by online dating experts. So let's mosey on over and see what the experts have to say at InternetDatingAwards.com:
From the About Page at (InternetDatingAwards.com) Site calls itself, 'Internet Dating Awards': We (David Tran and Simone Smyth) created this site to help other people navigate the digital maze that is online dating. Were here to guide, advise and inform, our goal is to be a place where people can find un-biased reviews of all the dating websites out there as well as a fountain of great information for anything related to the enormous and often intimidating world of online dating.

The claims made by on the about page for InternetDatingAwards.com and the determinations the site has made are HIGHLY SUSPECT to say the least.
That is what is stated on the about page at InternetDatingAwards.com, a site that claims to give out merit based awards to online dating companies.
So now lets take a look at the basis by which the awards are given out. Unfortunately that explanation is either missing or does not exist. It would appear that any explanation of how these awards are decided upon has been intentionally excluded from the site. However, the site ranks #1 on Google for Internet Dating Awards.  So next let's take a look for the FTC disclosure which is required to be posted on this site due to their affiliate marketing relationships. (Learn more about those updated requirements here, read ours here, or read the FTC requirements here). The FTC disclosure is also missing at InternetDatingAwards.com.
Therefore, given we have no metrics, no facts about the process followed, and no disclosures what we are left with is a series of tables mostly focused on adult dating sites. (NOTE: Adult dating site affiliate programs typically pay more than other affiliate programs) That being said, let's take a look at all we have to work from to see if together we can even begin to ascertain how the reviews are being done and how the awards are being given at InternetDatingAwards.com.
We picked one award they offered and published on their home page for awards. We chose one at random which was titled, 'The Most Innovative Online Dating Site'. This site awarded EroticSearch.com as the 'The Most Innovative Online Dating Site'.  Below is the single paragraph conclusion about the site from the editors of InternetDatingAwards.com.
"Conclusion: Despite its youth, Erotic Search is a very good website if you're in the market for some hot casual sex. My personal experience with the site was great. I found that the majority of women that I contacted were sexy and very interested in getting some action ASAP."

– Quote from InternetDatingAwards.com review of EroticSearch.com as written by David Tran.
Now I would refer you back to the about page which again is quoted above. It says that the sites is, "a guide, advise and inform, our goal is to be a place where people can find un-biased reviews of all the dating websites. No disclaimers, no disclosures, but this is what we did find when we looked into which sites got the awards?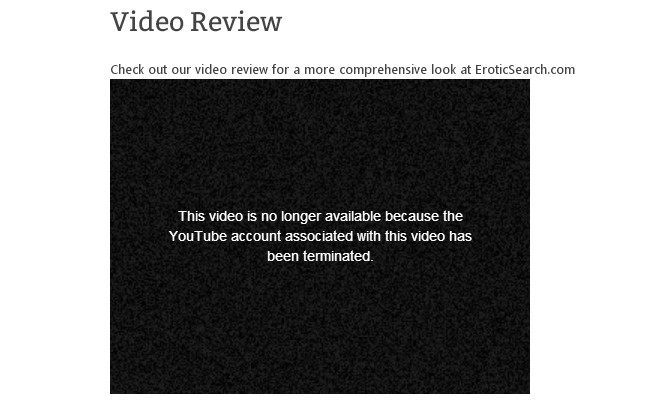 The commission track leads back to an affiliate program called TheDatingNetwork which is located at www.thedatingnetwork.net. Most of the sites given awards by InternetDatingAwards.com are all fairly small adult dating sites owned by a single company with one of the highest paying adult affiliate programs. GO FISH.
That means David Tran, author of InternetDatingAwards.com will make either make up to $120.00 per paying member or 75% of the amount of money you pay for your membership. That is correct, the author of these awards gets more of the actual take that the site owner gets as far as the cost of your initial membership.
While this site still holds the top search rank in a number of search engines for the exact match search term of, 'Internet Dating Awards' it was refreshing to see that enough people on YouTube have now flagged the videos to have the channel removed where they were hosting high search ranking videos.
The reason why I am writing this today is because I think that its high time that affiliate marketing programs establish some reasonable standards by which they are conducting themselves through partnership.
Besides wanting to make it clear to others that this is at best unethical and at worst illegal, I think that it is incumbent upon the affiliate programs to look at where their traffic is coming from and not accept fraudulent methods of traffic generation.
Moreover, these adult dating sites are in other cases encouraging fraud. When we went to some of the sites operated by this network we encountered the following display of awards that the site had supposedly won.
Dating Sites Encouraging Misrepresentation in Awards 
PassionSearch.com, another site operated by TheDatingNetwork.com affiliate program shows endorsements by an entity they call, 'Online Dating Council'. As  far as we can tell, this is a non-existent entity. They also show award nominations from an entity they call, 'Internet Dating Council'. This too appears to be a non-existent entity, or at least as best we can tell having spent days trying to locate any organization that goes by this name.  The site OnlineDatingCouncil.com is a parked domain. All our searches came back with no real entity going by these names. If we can find more information on either we will update this post as well as research those entities to share how they work.
The Short and Recent History of Online Dating Awards Explained
Historically there have been just two real or widely read online dating awards in the online dating industry and only one of these has had real awards as in trophies. The most respected, original online dating industry awards are from iDate. iDate is the Online Dating Industry Conference and Awards show.  The only other real if you will online dating awards were virtual awards from About.com. The about.com editorial Online Dating Awards have been defunct going on two years. The About.com awards ceased to exist because About.com was sold and budgeting was no longer allocated for that project. Bonny Albo was the editor at the time for those online dating awards and she did a fine job collecting and sharing research and offering subjective opinions. Since that time besides iDate there have been no other awards with any sort of actual process associated with them.
In 2014, The Golden Heart Consumer Online Dating Awards Launched
With the absence of online dating awards which were independent of the industry we decided to launch the Golden Heart Online Dating Awards in 2014. The Golden Heart Online Dating Awards exclude all shared database sites and focus on truly original online dating communities. To qualify a site must actually own and manage an original singles community. For 2015 we've expanded the niches to draw more attention to the niche singles communities that focus truly on the unique interests of those communities. The metrics are first based on aggregate reviews and then an independent editor decision is made based on detailed research about the experience had by the actual end-user. The 7 proprietary metrics we feel best dictate end value to the consumer:
Quality of Site Features
Membership Costs / Value
Amount of Local Members
Mobile App / Responsiveness
Customer Support / Post Sale
Likelihood I would Recommend
Overall Likelihood of Meeting Someone
You can learn more about the Golden Heart Online Dating Awards here.
Comments
comments