Just as online dating industry has expanded in all directions so has iDate, the largest and most widely respected trade show for the online dating industry. Headed by Conference Organizer Marc Lesnick, iDate conferences now circle the globe offering online dating industry professionals from all angles of the fast-growing internet dating industry and supporting industries a place to meet and share their expertise and services.

Like all other industry trade shows, going to the iDate conference is the best way to both keep up on the latest industry happenings and also make sure you are not missing a beat with regards to the latest technology offerings. From affiliate and payment systems, to up and coming matchmakers, to the latest white label dating opportunities; you make the connections and meet the people doing big things in the online dating industry at iDate.
Like any other industry, those that are on the move in the internet dating industry flock to iDate conferences and in particular the primary annual conference where the Official Online Dating Industry Awards are given out. (And yes I will not only be there this year but I am also excited to be able to share one of our new for 2014 'Golden Heart' Consumer Choice Awards during the annual awards ceremony.) A big thank you to Marc Lesnick of iDate for their support of our endeavors as we tirelessly try to keep you up to date with a forum to share your own thoughts on all the newest dating site.
However, my purpose for writing this post today it not to just share the upcoming iDate conference but really more so to share the fact that iDate is now offering a eLearning platform for entrepreneurs seeking to learn about how they can get involved in the Online Dating Industry by starting their own online dating business. I was excited to recently learn that iDate will be offering this course for anyone seeking to get involved in starting their own online dating business specifically due to the fact that I think there is a lack of good instruction out there in this rapidly growing industry. We get numerous emails each week as a result of our many YouTube dating site review videos from people looking to start their own online dating sites and so it's great to see iDate bring together their resources and knowledge to share this expertise in the form of actual courses.
Anyway, I'll update this post shortly with the sign-up information on this course. Here is what I know so far. The course includes entry to iDate and the following 6 modules listed below. There is really allot offered here besides the 6 comprehensive modules though..
The course is instructed via videos some of the following
Mark Brooks, Publisher, Online Personals Watch
Tanya Fathers, CEO, Dating Factory
Marc Lesnick, Conference Organizer, iDate
Michael O'Sullivan, CEO, Hub People
Nick Tsinonis, Co-Founder, Scamalytics
Julie Ferman, CEO, Julie Ferman Matchmaking
Steve Dean, CEO, Dateworking
Kevin Feng, CEO, Moxy Media Group
… and others
Also it all starts around Nov. 6th – Dec. 14th. After that you are off to the Annual Conference and awards show for networking which is included in the courses.
Initial orders do not open until October 23rd so there is still some time yet. Make sure to check back for details and sign up information.
UPDATED 10/23/2013 – 6:30 PM REGISTRATION IS NOW OPEN DETAILS HERE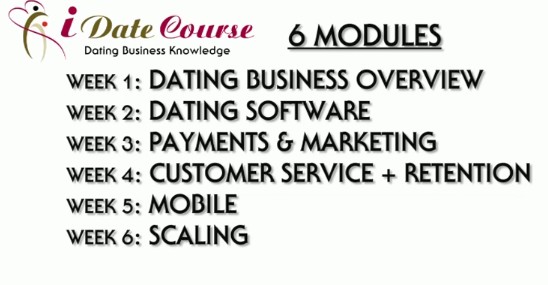 Here is a video with more background on the annual conference:
I HOPE TO SEE YOU THERE!
You can read a brief background on some of the most notable speakers and get more info on the agenda for the Las Vegas iDate conference here or just go ahead and secure your tickets at the link below. Remember you can save some big money by booking in advance! You can buy your ticket for the upcoming iDate conventions, check on complete agendas, secure sponsorship opportunities, and verify exhibitors lists at this link:  Internet Dating & Online Dating Industry Conference
Lastly, I also wanted to share that I spoke to DatingFactory yesterday, one of the leading white label dating solutions and they will of course be at the Las Vegas iDate conference and Annual Online Dating Awards ceremony so if you've recently started your own online dating site with their platform this is a great opportunity to meet with them in person and discuss how to build your own online dating site. You can find details on that at the link below.
However, I suggest you check back for the complete details on the eLearning courses that iDate is now offering. Take it from me, one small goof on your dating solution or approach to the business and you'll quickly sink thousands into a solution that gives you nothing. Having personally spent $ 45,000.00 on my M.B.A. and feeling as though I got every pennies worth I know how valuable a good education is. If this program is even 1/5th of that investment it will be a value. (I believe it's allot less from that I have heard so far.) Again, check back within a day or two for details…(To be updated)
In the meantime explore the DatingFactory solution at this link…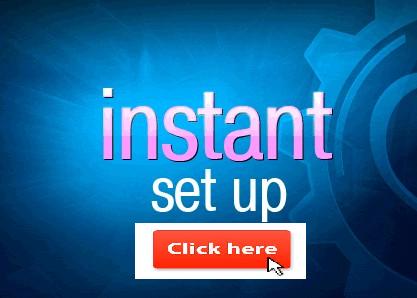 Comments
comments