HowAboutWe.com versus Match.com, Direct comparison in features and costs
Howaboutwe.com and match.com are amongst the biggest online dating sites on the web today. While Match.com has the edge in popularity, howaboutwe.com is a somewhat newer player that is gaining ground. How do these two parties compare? We give you the low down in this article.
Pricing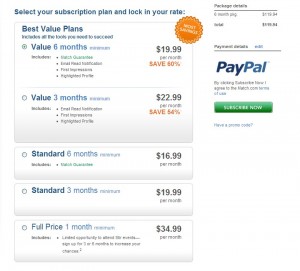 Howaboutwe.com has both a free and a paid membership plan. The paid membership plan starts at $21.99 per month, and goes down when you take up more months (three, six). Howaboutwe.com accepts most general credit card companies for payment.
Match.com has the recommendation to go with a paid plan. A basic subscription starts at $29.99 per month, which is more expensive than Howaboutwe.com. Of course, subscription packages that span more months (three, six) are available. Match.com accepts almost all payment methods available, including all credit card companies and the possibility to pay with (online) check within the United States. The fact is comparing apples to apples though that with the 20% Off Discount coupon or if you use the 6 month match.com plan with guarantee you still better off and paying allot less since the cost of match drops way way down to around 10 bucks a month!
Popularity and members
Match.com currently has almost 18 million active users. They visit the site over 95 million times a month. Its total member count is over 42 million, but it is its active user base that makes it the largest online dating site on the web.
Howaboutwe.com is less transparent about its amount of members, but states it has facilitates over 1 million dates so far. This makes the site less popular than Match.com, with probably fewer members to go with it.
Reviews
For Match.com, almost all reviews are very positive about the dating experience. "Match.com is an electronic version of the dating game in which you don't have to meet people in bars or in public, you just have to sign into your email and you might find someone out there."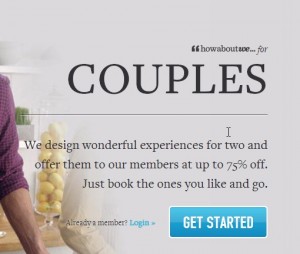 Howaboutwe.com also some generally speaking good user reviews and seems to be growing rapidly in popularity. Truthfully, this maybe the next best online dating option out there and how about we provides a fresh and new experience in their dating suggestions approach. It's definately worth considering.
Conclusion
While Howaboutwe.com is certainly gaining more ground concerning popularity, it cannot yet match the sheer size position of Match.com in the global online dating scene. If you're out looking for love and want to go with the larger of the two for the most members than the nod has to go to Match.com. If you've tried match.com and want an alternative, the it's got to be How About We! (I do have to say though if you were a member of Match.com a few years ago or even a year ago realize there are loads of new features and the turnover of new singles at Match.com means you'll have many more single to choose from in most areas. Likewise, the stir events which take online dating  offline are really worth a look as well….
Here is a Match.com free trial offer!
Still not sure? Head over and read HowAboutWe reviews here or the latest Match.com reviews here.
Comments
comments