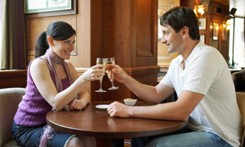 Hey ladies, in this post we are going to talk about a surprisingly popular question amongst ladies who are not naturally forward or outgoing. That is, 'How to flirt with a guy?'
How to flirt with a guy? Really, it's easy as pie for some girls and yet a very vexing question for so many others!
Well, let's begin with the bottom-line to this question. There are as many ways to flirt with a guy as there are layers on an onion. Random analogies aside, first tip, avoid the onion, at least right before flirting. 🙂
The answer here is not trivial though, it merely depends on your nature, the guy's nature, and of course the setting or the place where you may wish to get flirtatious with your man!
Here are some very cool ideas to get you started on how to flirt with a guy.  The age-old technique that invariably works and sends a guy's blood racing is when you make eye contact while standing close to him and doing the talking. Throw in a smile while making eye contact and you should have him hook, line and sinker.
Fish for compliments. Girls don't usually go around asking for guy's opinions on how they look and so if you do that with a guy, it drops a very strong hint that you are flirting with him. Pay him compliments! Let the guy know you like the way he dresses or that you prefer his company over others in a group.
Some girls have an instinctive understanding of the role that non-verbal communication plays in flirting. Learn to say "I find you attractive" with your eyes, touch, gestures, and movement. A giggle, a light touch, flicking an imaginary fleck of dust off the guy's shoulder, running your fingers through his hair…there are so many ways.
…And finally, be creative and keep at it. Sometimes, you have to work a little to get a guy's attention.
This has been another installment of from our regular dating advice column. Make sure to check out the latest Match.com Free Trial Offers and dating site reviews!
Also, keep in mind that if there is a discount offer, promo code, or other special offer from any of America's top dating sites we always have it! Use this tips on how to flirt with men and you are sure to move things farther in the direction you want them to go!
Ready for the next step? Read our article called, 'How to ask a guy out without sounding stupid….or even mildy retarded!' 
Comments
comments