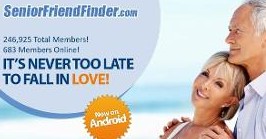 Chances are you pay little attention to the big business side of any online dating sites you are a member of and instead just focus your time on what they mean for you…as in what value you get from the site and who maybe your next date. Sound about right? I can't blame you and that is probably wise. So forgive me for a moment while I take a deeper look at the Friend Finder Bankruptcy filing this past week.
Here is the video version of the general comments I have about Friend Finder Bankruptcy. AGAIN, I WOULD REMIND EVERYONE. EVERYTHING REMAINS THE SAME WITH THIS COMPANY. They operate some of the very best online dating sites in the industry and the sites are not going anywhere. Also if you are a member NOTHING will change. It is business as usual.
So as  I just mentioned, I am writing today about my take on the just announced FriendFinder Bankruptcy, stock symbol/ticker FFNTQ. This stock closed the day up about 16% as penny stock of sorts after Tuesdays sudden announcement that Penthouse, Friend Finders parent co. is going into chapter 11 reorganization bankruptcy. So I applied a few hours of analysis to this companies financials to see what I could learn. Perhaps someone with a CFA certification can drop in and enlighten us all or even someone who paid better attention in their advanced corporate finance class. So just to cover the things I found of particular interest, which the same things that I find peculiar in this case; first of all the company owns what is perhaps the single most popular adult dating site online AdultFriendFinder.com. They also own tons of other REALLY well positioned and very valuable brands such as Amigos.com, AsiaFriendFinder.com, Cams.com, FriendFinder.com, BigChurch.com, and SeniorFriendFinder.com. There are allot more as well on the super long list of leading dating sites. This company also has very deep roots with publishers. The business is incredibly successful and it is NOT going anywhere, so why the bankruptcy?
Evidently here is the story as I understand it. When Friend Finder went public a few years back evidently investors were bullish either due to their adult association and parent co. (IMO) or out of the mere fact they didn't understand the value of the brands. The balance sheets and the income are all really fundamentally good for FriendFinder. So why are they going into Bankruptcy then? Evidently they haven't been able to secure good financing for their largest dating site acquisitions from years back and this coupled with the poor appetite from the stock market has pinched the co. I AM NOT A STOCK ANALYST CLEARLY, but do know about dating sites quite well. I am just really very surprised as to why money hasn't flowed right into this stock as well as private equity to refinance their debt obligations.
Online dating is here to stay and the brands this company owns are among the very elite in the online dating industry. IMO these brands will continue to grow and flourish for a VERY, VERY long time as they've become the known and trusted brands in many niches. This is no Cupid PLC we are talking about here, or similar company / family of dating sites that has shaky relationships with affiliate marketers. Friend Finder as a company, is widely known by publishers and site users as a company that provides customers and partners both a very, very solid user experience and great returns.
THE BOTTOM LINE: People like their sites. That is what is most important and a telling sign about the value of the online dating brands they operate. Friend Finder is a market leader and in my humble opinion private equity is missing out by not jumping at the opportunity to invest in this company. (A look at their charts is here, 544 million in debt next to their huge quarterly income is not that bad at all)
We exchanged a quick email communication with the company via our low-level affiliate representative today, just to ensure there would be no changes for members or us, and of course that was just as smooth as it always is.
Again, I am no financial adviser or professional stock analyst by stretch of the imagination but I can tell you one thing for certain, I know dating sites quite well and Friend Finder is not going ANYWHERE except up in our opinion.
You can read the latest adult friend finder reviews here as well or leave your own if you have been a member before. ( Or Try it yourself, Adult Friend Finder free signup here)  I might also mention that we've reviewed over 70 adult dating sites and no other site has provided better A. Customer satisfaction and B. Conversion ratio. I am a member myself and besides match.com these are the only two sites I continue to subscribe to month in and month out. (When I am single that is)
Here is a partial list of the just some of the other widely known brands / dating sites they operate as well as the reviews for those sites from past users as well…by all means, if you have been a member PLEASE share your opinions as well by using the 'leave a review' button.
1. Amigos.com
3. Cams.com
7. PerfectMatch
What will evolve from the friend finder bankruptcy?
Will a larger company step in to buy friend finder?
….or will it be like similar situations where they simply reorganize and get better long-term funding while shedding some debt? 
Share your comments…
NOTE FOR WEBMASTERS: The AdultFriendFinder.com Affiliate Program is perhaps the single best program in the industry. You can register here and rest assured this reorganization has no impact on affiliates. As a matter of fact it will simply making things better for you as an affiliate. Here is the sign-up. (I can also recommend this list of dating affiliate programs. )
Comments
comments