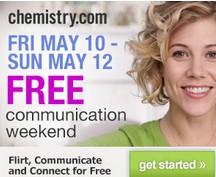 That's right, it's back!
Chemistry.com has just announced that it will be offering Free Communication Weekend Friday May 12th – Sunday May 14th 2013! The link is here:
Don't miss out this a huge opportunity to take advantage of the latest free offers from Chemistry.com and access their entire members database. Remember, this is not like other free trials. Meaning when you use the link below you can mail all members and keep mailing them and getting all the responses you like and replying back all weekend.
That is what has made this promotion such a wild success for Chemistry.com and you may want to give it a try. If you have never been a member of Chemistry.com you can also read our review here:
…or just jump in and meet singles in your area. Since it's free you have nothing to lose.
Comments
comments