What is Bumble & How Does Bumble Work?
Bumble is a location-based dating and social networking application. It follows the swipe right & swipe left format similar to its industry competitors Tinder and Woo. It is not only meant for romantic matches but also works in BFF mode as well. Bumble is best described as a Feminist dating app. Users are growing rapidly on Bumble with 46.2% as female users. Sign Up on Bumble for dating, friendships, and business.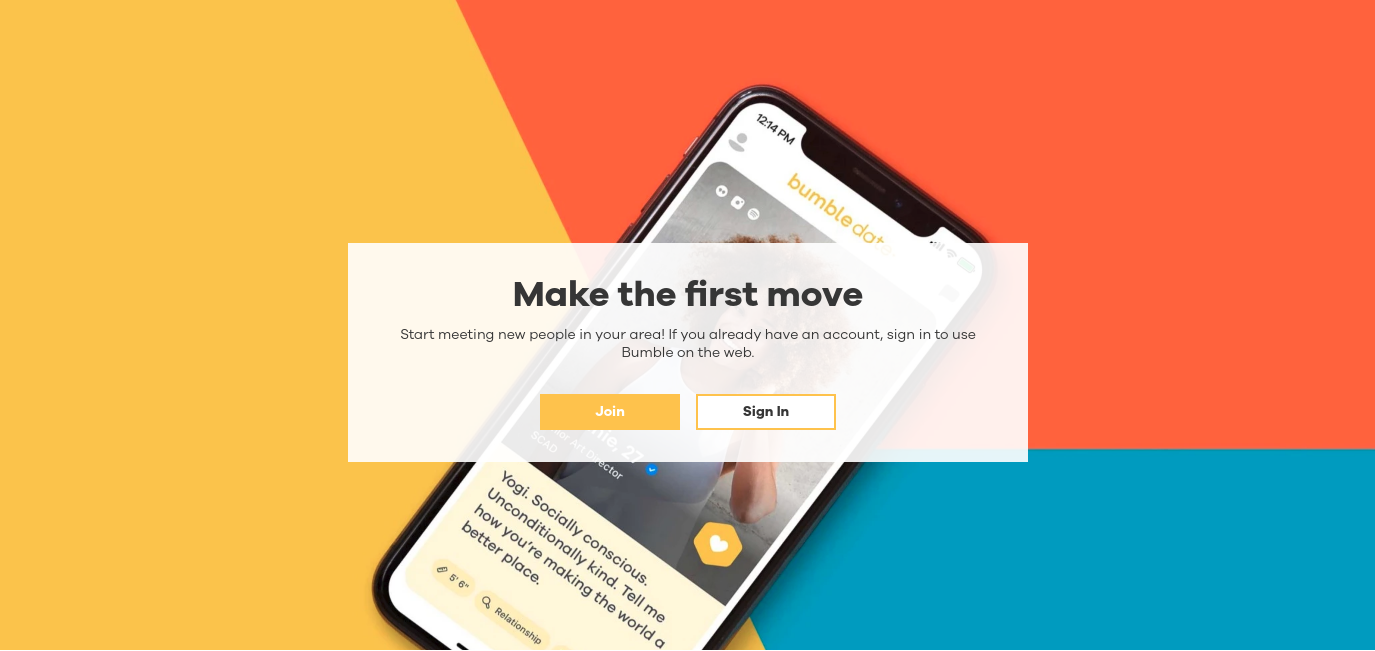 Signing Up Steps:
1. New users on Bumble app can choose to Sign Up using their Facebook account or Mobile Number.
2. Signing Up using Mobile number will be followed by a verification OTP which needs to be entered on the screen.
3. Next step is to fill in details such as Gender, Date of Birth and Name. Here also you will get an option to link Facebook.
4. A recovery email Id would be collected from the users so that if your account is getting stuck or locked out, it can be recovered easily.
5. You need to set a password for your account.
6. And Boom…You are ready to build your Hive now using Bumble.
7. Bumble app asks your intention of joining: Date, New friends or Networking. You would be shown profiles of similar intention only. This can later be changed from settings as well.
Bumble Date:  Here is how Bumble App looks Inside.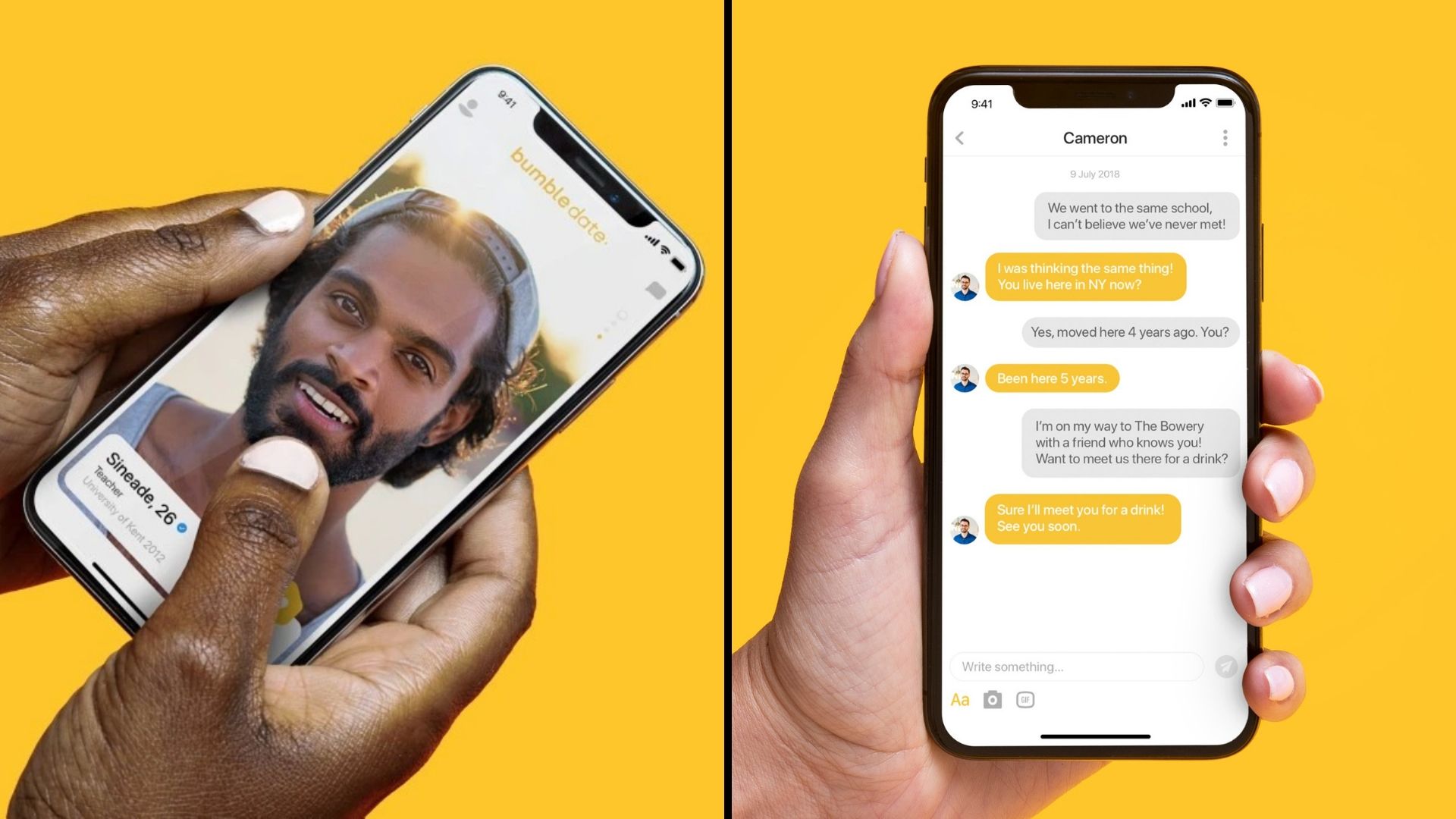 Bumble BFF:  A simplified way to create meaningful friendships. It can help you to build a supportive community around yourself — despite where or who you are.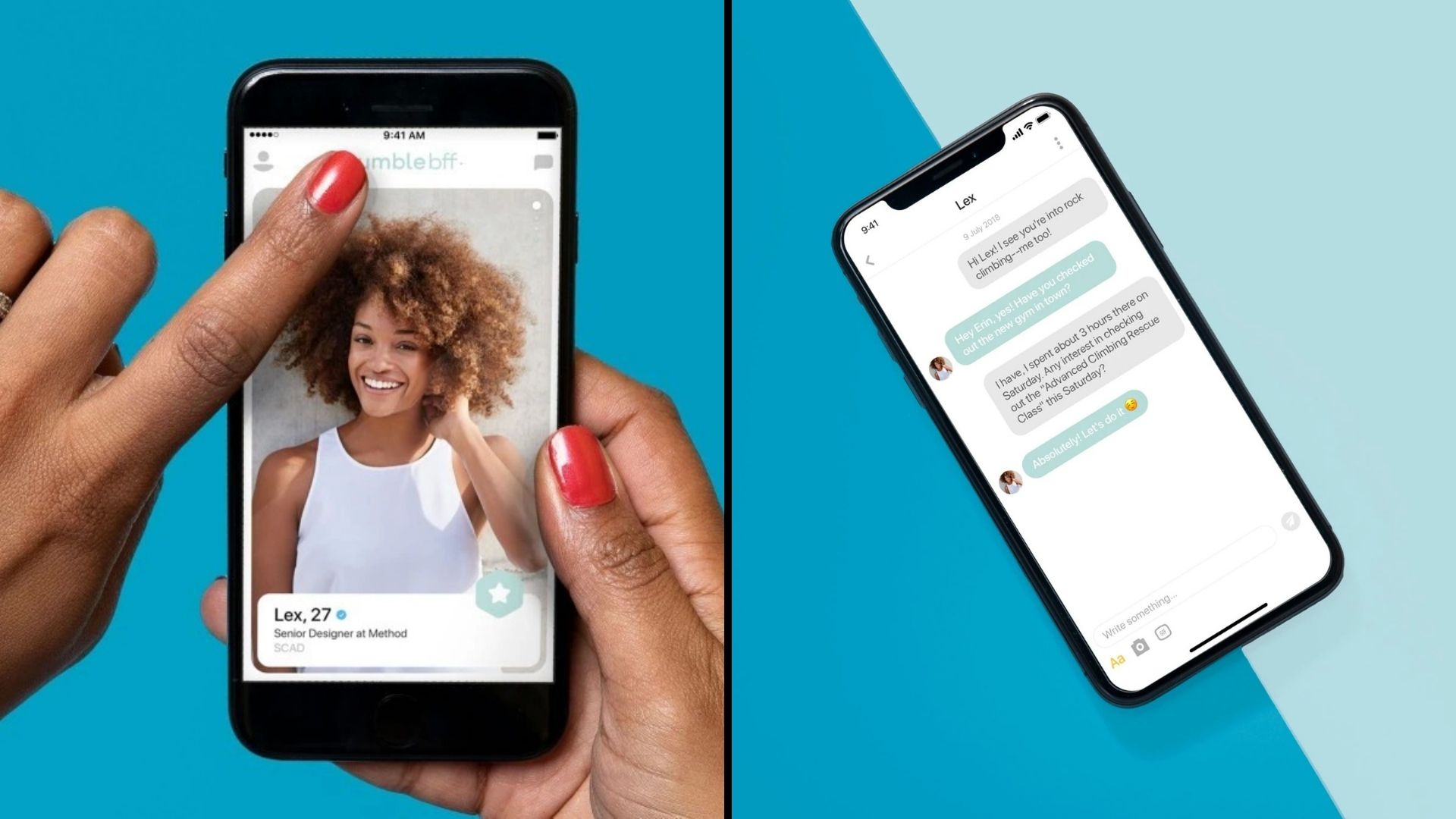 Bumble Bizz:  Easiest way where you can connect with professionals to share, and learn. You can make life-changing connections at your own pace, on your own terms without much of a sweat.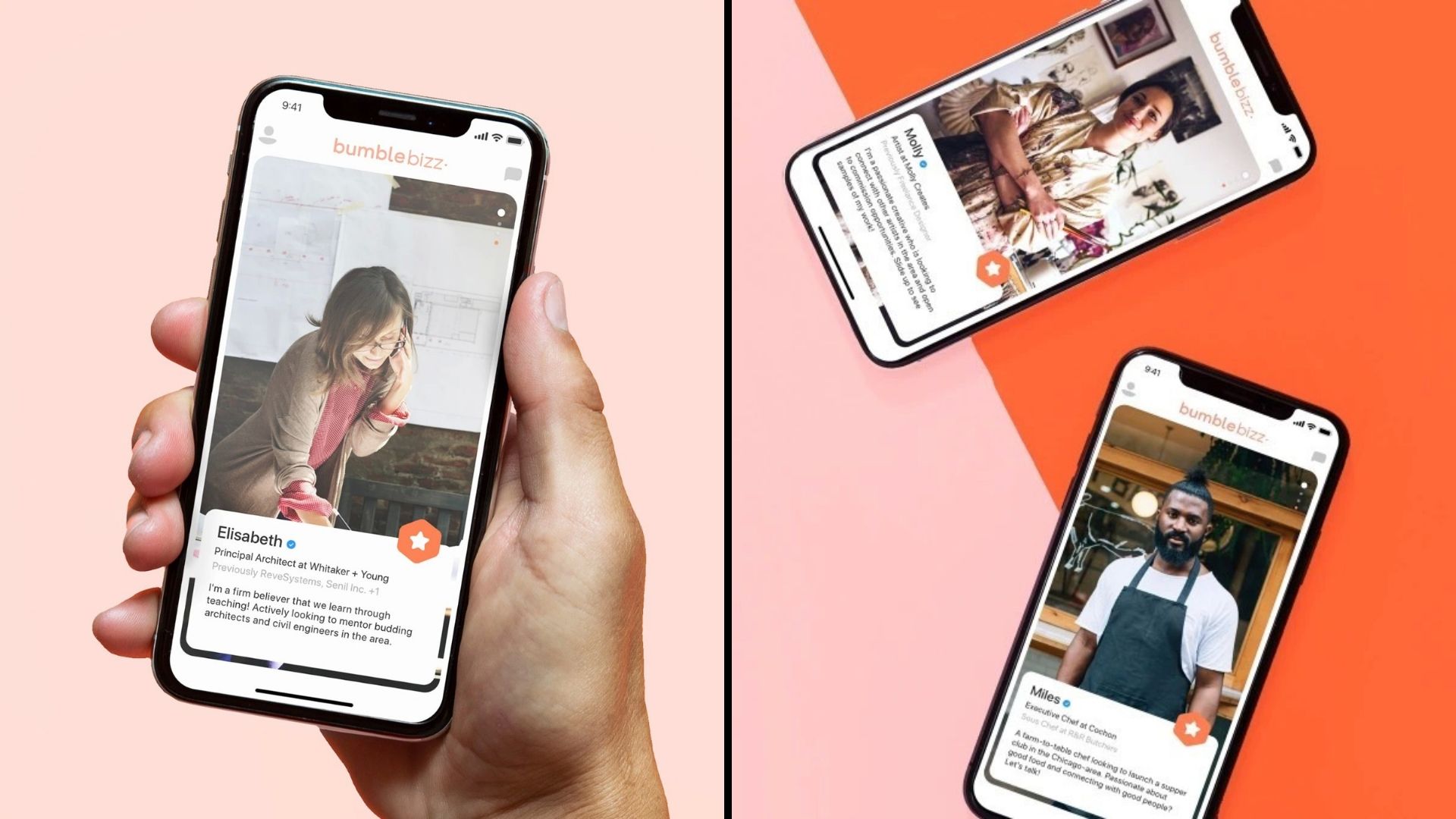 Top 5 features that make Bumble the Go To Dating App: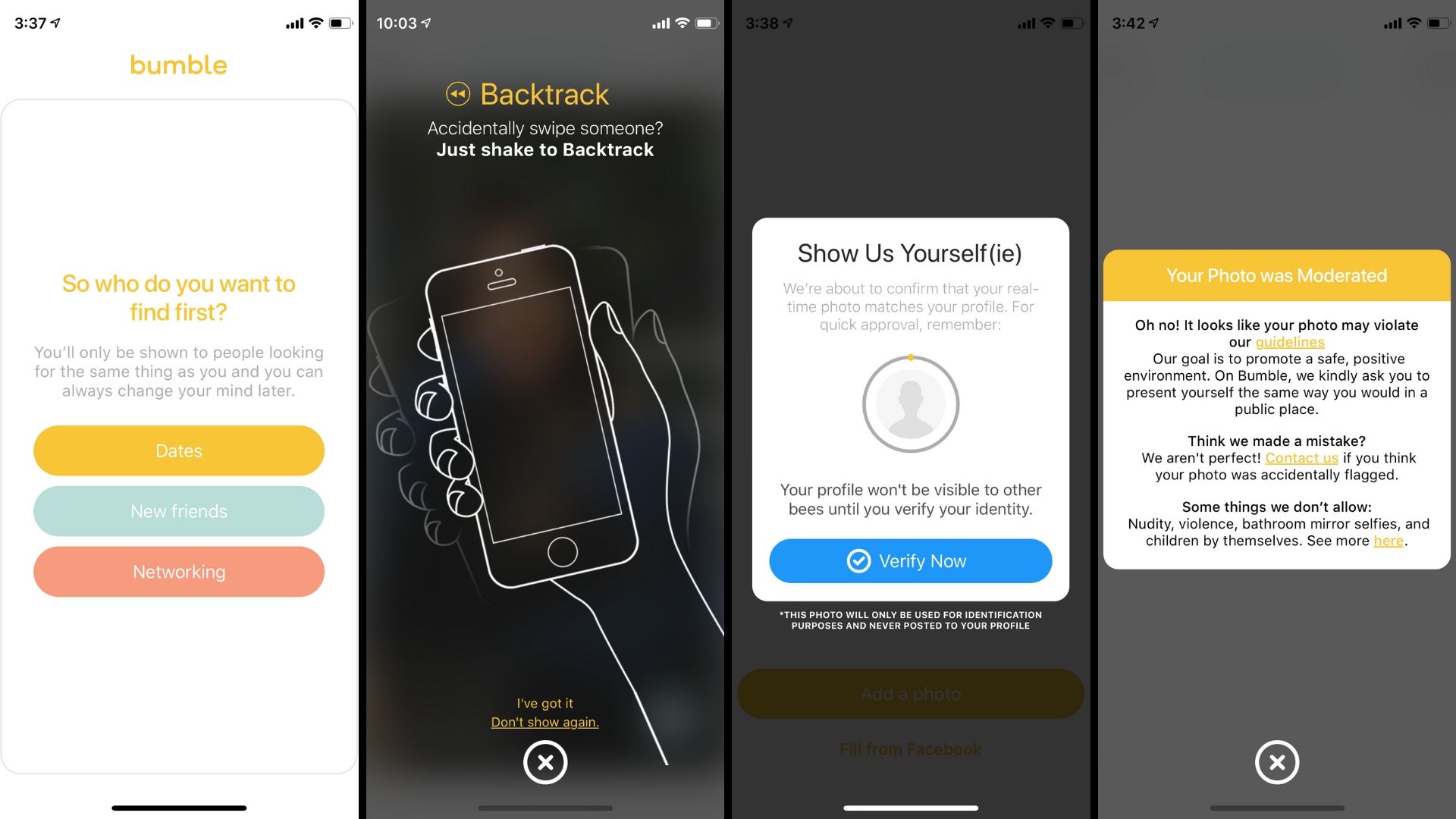 It is beyond Dating: Bumble is not only for finding a match for a relationship or dating. Bumble is much more than that. It is for finding New friends and Networking as well. If you are new to a city with no friends, Bumble can find you one. If you are looking for a business partner or consultation, Bumble can find you a relevant match.
Backtrack functionality: Accidentally if you have Swiped Left and you want to Undo that, then just shake your phone. Bumble provides up to 3 Backtracks.
No room for Spammers: Be genuine with the information you provide, because Bumble catches minute here and there of the information entered by a New User. If found malicious, the Bumble moderator team comes into the picture and takes time in activating your profile.
Bumble App Puts Women First
Women make the First Move: Once there is a match, the conversation can only be initiated by a woman. In the case of same-sex partners, either of them can start
Safe & secure information: Bumble notifies you while you try to post sensitive information about yourself. Also, your private information is not shown to others including your phone number and address.
When two users of Bumble Swipe right on each other's profile, a match happens and then only messages can be exchanged. Being a Feminist app, Bumble allows certain privileges to women. Women have the right and authority to start a conversation when there is a match within 24 hours. Followed by a 24-hour window given to men to respond back. If they fail to get connected within the time frame, the match disappears.
When it is the case of same-sex couples, either of them can start the conversation but the time frame still applies to them as well. A user gets to extend one match per day by adding 24 hours to the opposite user to reply. If a user needs to buy out time for more than one per day, there are premium subscriptions to choose from to avail of this facility.
Recently Bumble has introduced Voice and Video call options in the messaging screen. Users do not have to share their phone numbers to random and less known matches for extending conversation or knowing them better. As always Women gets the first move option for choosing Video or Voice call to their partners. Once they have initiated, men can see the options in their screen as well.
Bumble allows you to Link your Instagram and Spotify accounts as well. Linking Instagram helps Bumble in pulling out your Instagram latest posts to Bumble Profile without revealing your Instagram Username. By Linking Spotify, your favorite and top artists based on your most streamed songs gets added to your profile.
Top 5 Less Impressive Features/Services of Bumble App:
–>  Location can't be changed manually: Bumble app seeks your phone's GPS to be enabled always while using the app. And there is no option to change it manually.
–>  24 Hours timer for conversation: Followed by a match, women user have the power to initiate a conversation, failing to do so, the match would disappear. In order to keep a match for more than 24 hours, Bumble offers the service at a premium.
–>  Women-centric Dating and social networking application: Bumble is often termed as a sexist with much power and concentration on women.
–>  Fake Profiles: There are a lot of fake profiles similar to their industry competitors. It is up to the users to think before swiping right.
–>  Low Match conversion rates: Since Bumble shows the nearby users only and you enable many filters, then very less number of users would be shown to you and in turn, there are fewer chances of getting a match.
How Much Does Bumble App Cost?
Bumble is a free social and dating application and can be used without paying a cent. However, to get a better and personalized experience, a premium is charged.
Bumble Boost:
This allows users to select more than 2 Bumble Filters at a time so as to get the best-curated list of profiles who meets the criteria provided
You get to see the profiles who have already right swiped you in the match queue. This means the profiles you would be swiping right are a guaranteed match
You can extend the time window for the matches unlimitedly
You get to reconnect with the expired matches instantly
Bumble Boost Subscription Plans
No
Description
Price
1
1 Week
$8.99
2
1 Month
$24.99
3
3 Months
$49.99
4
6 Months
$79.99 (Most Popular)
Bumble Boost Subscription Plans (For India Users)
No
Description
Price (Indian Rupees)
1
1 Week
369 (Most Popular)
2
1 Month
769
3
3 Months
1,699 (566.33 Per Month)
4
Lifetime
6200 (One Time Payment)
Features like SuperSwipes and Spotlight also comes with a premium. For availing these features, users have to buy on a per-user basis.
SuperSwipes: Similar to Tinder's SuperLike feature. If you SuperSwipe a profile on Bumble by tapping on the yellow heart icon, your profile will appear in their match queue with a notification that you have SuperSwiped them. A SuperSwipe costs 1 coin each time. So, You have to buy coins and use them wisely.
SpotLight: Bumble SpotLight will make your profile a hot and popular profile to get maximum exposure in your area for 30 minutes. This costs 2 Bumble coin per use. So, you have to buy coins and use them wisely.
Buying Coins Plan
No
Description
Price (US Dollar)
1
1 Coin
$1.99
2
5 Coins
$7.99
3
15 Coins
$19.99
4
30 Coins
$34.99 (Most Popular)
Buying Coins Plan (India Users)
No
Description
Price (Indian Rupee)
1
1 Coin
79
2
15 Coins
699
3
30 Coins
1199 (Best Value)
How Many Users are on Bumble Dating App?
As per the latest data from different sources on the internet, there are about 55 million users registered on Bumble app both on Android and IOS platforms.
The current number of downloads on Google Play and on the iPhone app store. Bumble recorded a 600k downloads as per recent stats combined from Google Play and Apple Store.
Who Created the Bumble Dating App?
Whitney Wolfe Herd, who happens to be a co-founder of the popular dating app Tinder has spearheaded Bumble as the "Feminist dating app".
Customer Support Information for Bumble:
Bumble Support Team is available 24/7 to help you out. Reach them using the following ways:
Go to the "Contact & FAQ" present within the app.
Get connected with Bumble Support (https://www.messenger.com/t/bumblesupport) over Facebook Messenger, or send direct message @m.me/bumblesupport.
Follow Bumble Support (https://twitter.com/BumbleSupport) over Twitter and send a direct message or Tweet them.
Email your queries & concerns through Contact Form present in Bumble website.
Bumble Review Summary:
Bumble propagates the message of Women empowerment and that remains constant throughout the app. Comparatively, you will get less but the quality matches over a period of time. Expecting the first move in initiating a conversation is the first bottleneck and the second one being the 24 hours' time limit for a right swipe response and stating a conversation.
Most importantly, If you are searching for fast and quality dating, then Bumble it is. Because the conversion rate for getting a real date, a real BFF or a real Business partner is more. As far as their marketing pitch of being a Feminist app, they are surely taken as a sexist. Male users might get offended or feel left out because they are just in Bumble app to right swipe and wait for the women out there to swipe back and initiate a conversation.
The common problems faced in any dating app is spammers and spamming messages. Bumble, in turn, is the only app in the dating industry to have incorporated the feedback from the dating app users and made it women-friendly. In Conclusion, Bumble is the safest dating app built yet, with strict user policies, strict moderation and high quality of actual matches.
However, Users personal data is securely stored on Bumble as they claim. But be sure to read their privacy policy (https://www.bumble.com/privacy) and terms and conditions (https://www.bumble.com/terms).
Compare all the best dating apps with our table. This singles app is often compared to tinder. Perhaps you should read our tinder review and see if the two are anything alike and which is the best fit for you.
Comments
comments