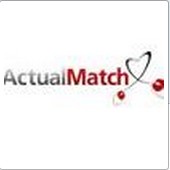 A newer dating site called ActualMatch.com based out of New York City, billed as a New York online dating site; that was purported to be started by a Wharton MBA student is on our scam watch list.

A quick look at their Facebook page shows nearly zero interactivity with 31 likes as of May 26th 2013. How is that possible from a site that claims to be two years old?
Likewise the Twitter account shows signs of fake followers. (Both considerable red flags for dating site reviews.)
Our answer to the question, Is actualmatch.com a scam is so far inconclusive but we strongly caution people against joining this site for the reasons outlined above.
Moreover, if you look at the actual supposed provider of the technology solution, as in their supposed matching system (which is located at www.eMatchopolis) look at the advertisement you will find in the upper right corner. It is an actual ad for the site actualmatch.com. That begs the question is this a case where the owner of the site actualmatch.com owns both the site and the platform. This online dating site needs to be more open and transparent in our opinion. We checked the FAQ page which offered very sparse information.
We invite this site to respond to this review and make more disclosures as to size of network and who else is using the platform. If in fact there is more clarity on this dating site given we will update our review with those details. The advertised cost of actualmatch.com is $ 19.95 per month but there is no information on their FAQ page about who owns the site, the numbers of members and no money back guarantee is offered. All more red flags and reasons why we suggest you avoid this site. 
Consider checking out our all-inclusive list of the largest online dating sites all of which we can confirm have large enough databases to support charging membership fees.
Lastly, as far as the ematchopolis dating platform and their claim that they use the following revolutionary technology:
 (1) eMatchology™ – Artificial Intelligence in Superior Human Match Making (Semantic Technology);

(2) DateGuard™ – Background Checks and ID Verification;

(3) MatchMaster™ – Reputable and highly trained, superior matchmakers who can offer one on one assistance to individuals seeking dating advice, image consulting and validate potential dating prospects.
Point blank, we are just not buying that it's any different that what is out their in the marketplace already nor that the size of the network is sufficient for any small business owner to consider joining it. Again, with the lack of examples of any succesful online dating businesses using the platform it's hard to conclude otherwise. It appears to us far more likely that the two are the same and the platform may have no others customers while the site may have a few thousand members, of which the majority are most likely not very active and not premium members either. If that is the case it of course begs the question why someone would start an online dating business with a platform like this. The latter is just our hunch based on what we observed online.
We have outlined the best white label dating platforms in prior reviews for those looking to create their own white label dating sites. The fact is the reason we suggest who we do is because you get a reputable network standing behind your dating site with a large member database that are actually active.
Therefore, we would also advise against joining this platform when options like these exist.
I would also add that it appears by Googling the term, 'ematchopolis' that there is 1 review of this company ranking rather high in search. That reviews reads just like an endorsement jam-packed with the feature keywords. (This review does not pass our smell test nor can we imagine it would anyone else's) 

Also, if you are looking to try out a new-to-you but not new to the industry dating site as in a site with an established presence, this weekend eHarmony has a free communication weekend going right now. Details on that promotion from eHarmony are located here.
Please, if you have been a member of actualmatch leave a user review below!
Enjoy the this Match.com 7-day Free Trial from DatingWebsiteReview.net or click below to just browse America's largest online dating site for free…
Comments
comments