I am constantly scouring social media sites like Facebook, Google Plus, and Twitter to see which dating sites are most active in social media and observing how these sites are engaging potential members.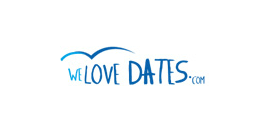 As a result I've become quite familiar with a dating site called WeLoveDates. WeLoveDates.com is a popular and growing dating site (review here) that I've been very impressed by when it comes to creating engaging and creative content. One of the talented ladies behind the scenes at WeLoveDates is Liz Spornick, Social Media Manager. We were able to convince Liz to share more about both her own takes on internet dating and learn a wee bit more about WeLoveDates.com as well. Here is that interview.
How did you get involved in the Online Dating Industry?
Liz Spornick, Social Media Manager at WeLoveDates.com

4 years ago, I was single girl working in marketing and PR and blogging my way through dating and sharing my experiences with the world on my popular personal blog. I began writing for WeLoveDates and the rest is history.
What is on the horizon for your dating site?
We are looking forward to expanding our city based dating guides and are focused on our niche sites, offering singles the chance to connect with others who share interests, religion or physical preference.
Do you feel online dating sites change the way people interact as far as dating goes? Or do you feel it's merely a tool and society changes on it's own.
At it's core, dating is dating-it doesn't matter where you meet someone. For a relationship to work, you have to step out from behind the computer to see if there is any chemistry face to face. Online Dating makes it easier to connect, but in my opinion it's just a tool-dating is still a lot of work!
Have you ever  used a online dating site? If so which one?
I have tested out quite a few online dating sites and I actually met my husband online.
What impact do you think Mobile Apps /Social Discovery Apps will have on the online dating industry?
I think Mobile Apps are having a huge impact on the online dating industry. Singles want instant gratification, and more and more are turning to their mobile phones or tablets to find dates in real-time.
Do you feel private label dating platforms operated by small niche operators will play a role in the future of online dating.
I feel like niche sites are already playing a pivotal role in online dating. Niche sites offer daters the chance to meet the specific type of person they are looking for, in essence saving them time and making the online dating experience seem less intimidating.
What changes do you see happening in the online dating industry as a whole?
Online Dating site owners are starting to realize that a one size fits all approach isn't working. Singles have options, and quality sites are now providing more than just a platform to meet people. They are offering dating advice, date ideas,  meet-up groups and sponsored events, and specialized niche sites.
What's missing in the world of online dating?
I think bridging the gap between online and offline is a huge opportunity for many online dating sites. It's important to connect with users on a more personal level, and provide next level customer service, social media interaction and real life, real time advice.

 
Thanks again Liz! I appreciate you taking the time to visit with me. Again, you can read the WeLoveDate.com reviews here, leave your own, or join the site here.
Comments
comments