This past week we had a chance to catch up with the founder of one of the fastest growing independent news sources for the online dating industry, Global Dating Insights. Here is our, 8 on Online Dating Interview with Simon Corbett, Founder of GlobalDatingInsights.com.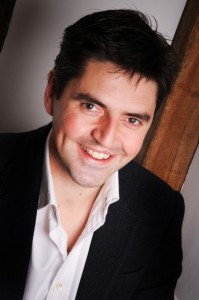 1. How did you get involved in the Online Dating Industry?
My main business involves owning and running a PR Agency, Jargon PR. We used to have online dating clients and several of them asked us to research the trade media. We quickly realised the industry didn't have a trade media.

I have also always been fascinated by the online dating industry and couldn't resist setting something up. I hired a small team of reporters, developed a site and launched – the reaction and traffic has been fantastic and way beyond our expectations!
To avoid any conflict of interest, Jargon PR resigned its online dating clients and will not work with any businesses directly involved in the online dating market.
2. What impact do you think Mobile Apps /Social Discovery Apps will have on the online dating industry?
Companies like Tinder have shown that startups can take on the big players of the industry, and using location-based dating is a brilliant way of making it easier to meet people. More and more people are using their phones as a primary source of accessing the internet, and by streamlining the often time-consuming profile-centered dating model, mobile apps are bringing online dating to a younger, and busier, generation.
3. What is on the horizon for your dating site?
We have a number of exciting developments we're rolling out over the next few months. The biggest three are:

Increased Editorial Coverage – we are currently recruiting for writers in the US and Asia Pacific region. This should strengthen the depth of our editorial coverage in these areas.

Recruitment – we will shortly launch a new section offering organisations in the industry the opportunity to advertise vacancies free of charge.
Special Reports – GlobalDatingInsights will produce a series of quarterly reports. The first is released around Christmas and will be an overview looking at the state of the industry. After this each report will focus on a different industry area.
4. Tell us more about your sites latest plans…
We are very excited about the quarterly special reports we are planning. They will look at a number of specific areas in real depth. Each report will be 10-12 pages and available through the web site, free of charge. There's nothing like it produced for the industry at present. We have tested the idea and the sample format with a number of industry stakeholders and the reaction has been excellent.
5.Have you ever used a online dating site? If so which one?
I haven't. I'm very happily married with two children.
6.What changes do you see happening in the online dating industry as a whole?
This year has been a huge year for mobile, and I think we will see that continue in 2014. Companies like Tinder have shown that a simple product can do massive things in the industry, and this will inspire startups. I think we could also see a move towards using science in online dating – we've already seen a few companies, like Instant Chemistry, who are using DNA tests to help matching. This is in early stages, but could become more more prevalent in the next few years.
7. Do you feel the online dating industry needs more regulation?
I think there is a call from the industry to have more regulation, and in the UK the recently announced Online Dating Association, which has companies such as Match eHarmony and Lovestruck as founding members, will be a huge help in providing regulation and an independent standards body for the industry. There are been many high-profile stories regarding privacy and data protection in the industry this year, and it will be very interesting to see if the ODA can succeed in helping the industry become safer and more open.
8. What's missing in the world of online dating?
The one thing I felt was missing from the industry was a quality, independent editorial news service. There are others who simply aggregate content from the web, that's great, but they tend to be run by consultants, so when they do write anything, its heavily biased towards their own clients.

I believe the industry needed an independently run news service and judging by the reaction and response we've had – so did everyone in the industry!
We would like to thank Simon Corbett for taking the time to share his take on the online dating industry and where things are headed. Global Dating Insights is a great place to read about online dating industry news, technology developments as they relate to online dating, and as well as some offering very insightful and frequently updated array of executive interviews. As a matter of fact as an avid online dating industry watcher, this site is one of our new favorite news sites. Keep up the great work guys!
Comments
comments