There are a handful of dating niches in the Industry that I really think demonstrate just how wonderful modern technology via online dating has become. Military dating sites as well as those that connect people who protect the rest of us are really near and dear to my heart. Kurt and Alison Celis are the visionaries behind Heromatchmaker.com, one such leading site. It was able to catch up with the founders of this dating site lately and get their insights as well as learn a little bit more about what makes them tick. Here is the interview.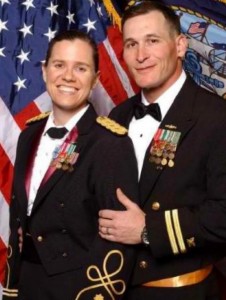 1. How did you get involved in the Online Dating Industry?
For years Alison and I told people that we met on-line. For years people told us it didn't work for them. So we decided to make something that will work, that will bring people together who deserve to have someone special in their life. We created a site that gives people the freedom to meet the type of people that they want to meet.
3. What is on the horizon for your dating site?
We are steadily growing! Our organic growth shows a genuine interest and legitimacy to the service we are offering a very special group of people. Great things are on the way!
4. Do you feel online dating sites change the way people interact as far as dating goes? Or do you feel it's merely a tool and society changes on it's own.
Early on, perhaps dating sites paved the way for virtual relationships but current online dating platforms offer themselves as vital tools in pursuit for relationships in global, fast-paced societies.
6.  Have you ever used an online dating site?
Yes, Alison and I met on one of the original, 'early days' dating sites. Technology has changed so dramatically since then. We are thrilled to be offering a niche platform that will keep current and moving as dating communities evolve.

 
7.  What changes do you see happening in the online dating industry as a whole?
It's no longer taboo and continues to gain acceptance. Growing technology and global social connections have changed many components of our daily lives – not leaving behind love, personal relationships, and dating.
8. Do you feel private label dating platforms operated by small niche operators will play a role in the future of online dating?
Definitely, just as people tend to gravitate towards familiarity in a physical world, definitive niche dating platforms continue to offer people a strong opportunity for success in matching and compatibility.
10.  If you could change one thing about the dating industry tomorrow what would it be?
Bad advice. In a highly social and tech savvy industry, there seems to be a murky line between good and bad dating advice out there.
11. What is the single biggest challenge of operating a dating site?
We have put a lot of thought and heart into offering opportunities for member verification. We continue to encourage people to not only sign up and have immediate access to over 10,000 profiles but also take the extra minute to verify they are who they say they are.
You can reach out and contact either of them direct:  Kurt@HEROmatchmaker.com / Alison@HEROmatchmaker.com
Thanks you again to Kurt and Alison Celis for taking the time to share more with us about Heromatchmaker.com. You can also read more about them and their dating site Heromatchmaker here.
Comments
comments