Don't give up now, you just got Started!
New Year Resolutions…how to keep them.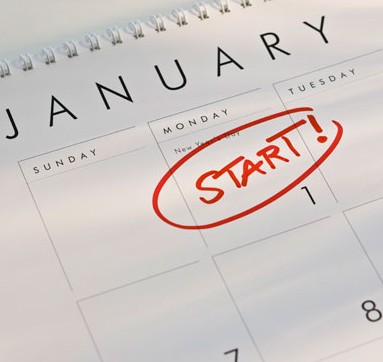 New Year always brings along the traditional resolutions, in which everyone wants to better their lives through the agreements they make with themselves. Whether it is finding the new love of life, loosing weight, or quit smoking: we all find it hard to keep those New Year's resolutions. That's why we give you 5 tips to keep your New Year's resolutions!
Keep your goals realistic
Goals are harder to reach as they grow in size. This is of course logical, but often people forget to set realistic goals. "Earning more through my job" is a much more realistic goal than "earning five million through stock brokering". Be realistic in where you see yourself within the next year.
Make small steps
Every goal needs concrete actions to be able to accomplish it. If you want to meet the love of your life in the next few months, you should make a small step first: for example, sign up for a dating site to explore if that might be an option to meet someone. If you divide your goal into small steps, your goal becomes much easier to accomplish.
Remind yourself of your goal
It is good to often remind yourself what you want to accomplish by the end of the year. For one, make notes for example on post-its that you stick on the walls in your house – or your office computer screen. This way, you will be reminded what you are trying to achieve.
A reward every once in a while is good
Let's say you want to loose weight in the New Year, or you want to quit smoking. Whenever you make a good decision that brings you closer to your goal, you could reward yourself for the good behavior. You could, for example, treat yourself to a great dinner or go to the cinema!
Talk about your resolutions
If you want to really stick to your resolutions, talk about them with friends and family. You will be able to ventilate any frustrations that you are having, and at the same time will gather support for what you are doing. Your friends and family will be glad to help you keep your resolutions!
Make those goals last folks!
Also, in case you overlooked it, make sure to take a look at our list of winners in 2014 Golden Heart Consumer Choice Awards for the best dating sites for 2014!
Yes, we've updated our theme. In the next two weeks we'll be making major updates to reviews system as well so stay tuned for the improvement for 2014…there are lots of changes coming.
Comments
comments