So it's almost the holidays, and you wonder if a special new friend will be giving you any gifts under the tree. If you're not doing anything to put yourself out there, then my guess is probably not. So what are you going to do about it?
When you are single during the holidays there are several things you can do to feel good about being single.
Dating tips for women
First get clear what you want.
Do you want a partner in the future? What are you looking for really? A short-term partner? Marriage? Figure out what you want first. Physically write down a list of what you are looking for in a potential partner. Being a good kisser will only get you so far. Consider your values and what they are. If you are a vegetarian, is it important that your new lover is animal friendly too? If you are in the Ironman contest, could you handle living with a couch potato?
Consider what you will bring to a relationship.
Are you going to be a provider? Write this all down too. Are you going to bring security, sensuality, playfulness or adventure? What are the qualities you see yourself sharing with another person? Write these traits down too so you can get more clear on who you are and what you can share with a potential partner.
Get yourself online.
There are lots of online dating sites that are right for you. You can set your parameters such as distance, height, fitness level, if you want kids or prefer someone who wants to travel the world with their dog. Online dating is great because you get to see the basics idea of what a person is like, physically and their writing style
Get a dating coach.
If you have bad grammar, don't like to write or have no idea how to get started, remember you only have one chance to make a good first impression. You won' t want to miss out on that amazing woman who is sexy, fit and wants 2.5 kids just like you because your profile says something like: No cheaters, liars or fakes. I like hikking, I like bking and I am ready 2 meat a girl like you. Call me please at 555-123-4567. I haven't had a date in a year.
The grammar police will be on their way to scoop you up in the horrible spelling, totally boring online profile paddy wagon.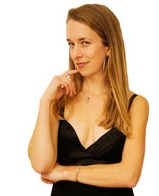 You want to connect with a new potential date in the right way.
If you are looking for EPIC Love and don't know where to begin, you can ask the experts for a little help. Contact Dina Z Colada. She has helped thousands people all over the world with her EPIC Dating, Love and Relationship advice and online profile makeovers. She has room for a few more personal coaching clients. You can contact her at DinaColada.com
Comments
comments